Adventure Escape Mysteries Paradise Mystery Walkthrough – Kate finally takes a well-earned vacation at a fancy beach resort with her friend Melissa. They're ready to relax, but things are off to a rocky start !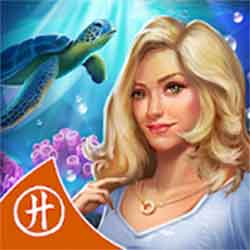 Adventure Escape Mysteries Paradise Mystery – Mystery Story Room Escape game by Haiku Games
Paradise Mystery Walkthrough
Pick up all items that you can grab L
– allen wrench near trees
– ice cube from the drink
– makeup bag from left black bag
– hairbrush from right black bag
– note in your jacket pocket for suitcase lock combination clue :
3 unique numbers
Small to big
Rotate it upside down and it remains the same
the answer is 6 8 9 to open your red suitcase
use the ice cube on blue suitcase to remove the gum
now open it and look at your passport
look on left mirror and place your hair brush and makeup kit
match Kate's look with her passport photo
tap on left monitor check in robot to enter your reservation number
you can find it on your phone from red suitcase the answer is 80808
tap the luggage bot and you need to replace the missing wheel
use allen wrench to remove the blue suitcase wheel then connect it to the bot
Move the luggage bot using forward and right button to the EXIT
now you're in the hotel room
open the closet and take the wire hanger and white dry washcloth
tap the blue monitor Zenwell, and ask for the 1st question :
the clue is on potato chips
and if you ask the last question then you will see your current balance is $0.00
use dry washcloth with the soap suds and clean the fingerprint scanner on left
open the cabinet and eat the potato chips
tap the blue monitor and ask the last question
you will find the number for potato chips : $5.82
tap the bathroom door and make line numbers for 582
you will find Melissa
now move the window blinds aside and take the squeegee
use it to celan some suds on left
get a key using hanger and move the steps under the locked panel
drag your finger to connect all dots in 1 move from green to the red dot !
paradise mystery chapter 2

paradise mystery chapter 3

paradise mystery chapter 4