Cheats for DNBHL Level 31 32 33 34 35 Walkthrough with explanation how to solve puzzle code on each levels that you don't understand the question what to do ? This riddle game provides a dark and scary experience that will get you tremendously excited.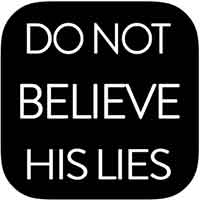 Do Not Believe His Lies : The Unforgiving Riddle by theM Dev for android and ios
DNBHL Level 31 Walkthrough
IF YOU ARE READING THIS, THEN THIS WARNING IS FOR YOU. EVERY WORD OF THIS USELESS FINE PRINT IS ANOTHER SECOND OF YOUR LIFE. DON'T YOU HAVE OTHER THINGS TO DO? IS YOUR LIFE EMPTY THAT YOU HONESTLY CAN'T THINK OF A BETTER WAY TO SPEND THESE MOMENTS? DO YOU READ EVERYTHING YOU'RE SUPPOSED TO READ? DO YOU THINK EVERYTHING YOU'RE SUPOSED TO THINK? DO YOU DO WHAT YOU'RE TOLD YOU SHOULD DO? GET OUT OF YOUR APARTMENT NOW. MEET A MEMBER OF THE OPPOSITE SEX. STOP WASTING YOUR LIFE. PROVE YOU'RE ALIVE. IF YOU DON'T CLAIM YOUR HUMANITY YOU WILL BECOME A STATISTIC. DO SOMETHING TODAY THAT YOUR FUTURE SELF WILL THANK YOU FOR. YOU WILL NEER BE COMPLETE, MIGHT AS WELL START DOING SOMETHING ABOUT IT. YOURS TRULY YOU.
Email the photo to yourself and it will download with blinking dots under some letters, now connect these letters that have dots to get the answer
enter code : I LIKE YOU
DNBHL Level 32 Walkthrough
dot and dash
enter code : MORE TO COME
DNBHL Level 33 Walkthrough
00110101001101010011001100110000 and hexagon
ASCI – B64
enter code : SHADOW PUZZLE
DNBHL Level 34 Walkthrough
SHARE IF YOU CARE
share the picture on twitter and you will see the answer
enter code : THE WRONG WAY
DNBHL Level 35 Walkthrough
purple dots with 4 main colors : red blue purple pink
find out the hex color
enter code : ac00ac7000ace800e7ac0055
Only the Weak Give Up. It always seems impossible, until it's done! To pass the answer on each level will requires time and a lot of thought, it can be a cut-out and combined a puzzle, translated morse codes, decrypted a photo, watched a heart pumping video, learning how to decipher stereograms and many more !