Answers for DNBHL Level 36 37 38 39 40 Walkthrough with explanation how to solve puzzle code on each levels that you don't understand the question what to do ? This riddle game provides a dark and scary experience that will get you tremendously excited.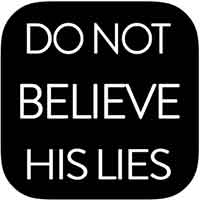 Do Not Believe His Lies : The Unforgiving Riddle by theM Dev for android and ios
DNBHL Level 36 Walkthrough
http://youtu.be/Eg-0hJx8b0g
go to the link you will see a video with song
In the middle of the song there are long tones that go up and down for a really long time. These tones are an illusion caused by the way the sound waves interact called "Shepard tones".
I never end. I am just an illusion. I am the sound of infinity. Find me. Name me.
enter code : SHEPARD
DNBHL Level 37 Walkthrough
LegendaryForwards was right all along ?
enter code : IT IS ALL IN VAIN MY LORD
DNBHL Level 38 Walkthrough
Pridie Kalendas Ianvarias MMXV means the last day before January 2015
prefer et obdura dolor hic tibi proderit olim
TERMINUS
changed the date on your phone to the Monday in two weeks and the time to 2:00 AM, you will see the hint button with code
enter code : I HAVE SUFFERED ENOUGH
DNBHL Level 39 Walkthrough
WE HAVE ALWAYS TREATED YOU NICELY, WE TOOK CARE OF YOU, WE MADE SURE IT WOULDN'T COME BACK. WE ARE NOT PLEASED. WE SAW THIS HAVE MADE YOU WEAK. WE SAW THIS MADE YOU TALK. WE HAVE CHANGED. WE HAVE CHANGED NOW. WE HAVE CHANGED NOW. WE HAVE CHANGED NOW. WE HAVE CHANGED NOW. WE WILL HELP YOU. WE WILL MAKE IT RIGHT ONCE AGAIN. WE REQUIRE YOU TO KEEP THE DOORS CLOSED. WE REQUIRE YOU DO NOT SHARE. WE REQUIRE YOUR SILENCE. WE REQUIRE YOU FOLLOW THE CLOCK. WE REQUIRE YOU FOLLOW THE TIMEFRAME. FOLLOW THE TIMEFRAME. THE TIMEFRAME. CLOCK.
DOORS WILL ONLY BE OPENED AFTER THE CLOCK. THERE ARE TO MANY OF THEM. FIX THIS SOON. WE ONLY NEED FIVE. THEY HAVE LEARNED MUCH.
WE HAVE CHANGED NOW.
enter code : WE AWAIT YOU AT THE END
DNBHL Level 40 Walkthrough
It's been reported that most victims of a vicious attack, during the act, would retreat into a world of fantasy from which they could not wake up. In this catatonic state, the victim lived in a world just like their normal one, except they weren't being attacked. The mind of the victim would often try to wake up the victim by leaving hints around the victim's world to help them realise they were asleep. Sometimes, even after the victim knew what was going on, they would still refuse to please wake up.
you just need to translate the hieroglyphs at the bottom
enter code : OPEN DOOR AT NIGHT
Only the Weak Give Up. It always seems impossible, until it's done! To pass the answer on each level will requires time and a lot of thought, it can be a cut-out and combined a puzzle, translated morse codes, decrypted a photo, watched a heart pumping video, learning how to decipher stereograms and many more !