Answer for DNBHL Level 41 42 43 44 45 Walkthrough with explanation how to solve puzzle code on each levels that you don't understand the question what to do ? This riddle game provides a dark and scary experience that will get you tremendously excited.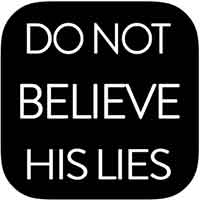 Do Not Believe His Lies : The Unforgiving Riddle by theM Dev for android and ios
DNBHL Level 41 Walkthrough
DOORS CLOSED
go to the ustream link : http://www.ustream.tv/channel/dnbhl-clock and you will see a clock ticking
Be there when the clock lights up!
enter code : The tell tale heart
DNBHL Level 42 Walkthrough
DOORS CLOSED
You need to enter the answer at the right time to get the clue
enter code : MY MIND IS TUMOR HELP ME FIND IT
DNBHL Level 43 Walkthrough
of my mind
the picture somehow translated into the song (or a link to the song "my presedent" by young jeezy the album name of this song was The Recession
enter code : THE RECESSION OF MY MIND
DNBHL Level 44 Walkthrough
location shire? snowy?
Snowy in Spanish is Nevada. Shire is another word for county. The triangle in background of the video is a bombing target in Nevada. That target is in Nye County. If you use Pixivisor with the beeps, you should somehow get "Robert 1973″. There was a poet named Robert Nye who published three works in 1973, one of them being "Five Dreams".
enter code : FIVE DREAMS
DNBHL Level 45 Walkthrough
http://j.mp/
The symbol letters is Arabic language that translates into "the last judgement". If you put that behind a j.mp/ but spell judgement as "judgment" (part of clue) it takes you to a mega file. It will eventually give you "One Angel".
enter code : ONE ANGEL
Only the Weak Give Up. It always seems impossible, until it's done! To pass the answer on each level will requires time and a lot of thought, it can be a cut-out and combined a puzzle, translated morse codes, decrypted a photo, watched a heart pumping video, learning how to decipher stereograms and many more !