Answers for DNBHL Level 46 47 48 49 50 Walkthrough with explanation how to solve puzzle code on each levels that you don't understand the question what to do ? This riddle game provides a dark and scary experience that will get you tremendously excited.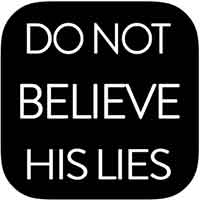 Do Not Believe His Lies : The Unforgiving Riddle by theM Dev for android and ios
DNBHL Level 46 Walkthrough
Characters are square Aramaic. They translate to "Devil Door Death"
enter code : DEVIL DOOR DEATH
DNBHL Level 47 Walkthrough
In the center of the swirl there are seven bars. Arranging them in a certain way makes them form a Microsoft tag that brings you to a page that says "The Five Are Amongst Yourselves".
enter code : THE FIVE ARE AMONGST YOURSELVES
DNBHL Level 48 Walkthrough
enter code : ?
DNBHL Level 49 Walkthrough
enter code : ?
DNBHL Level 50 Walkthrough
enter code : ?
Only the Weak Give Up. It always seems impossible, until it's done! To pass the answer on each level will requires time and a lot of thought, it can be a cut-out and combined a puzzle, translated morse codes, decrypted a photo, watched a heart pumping video, learning how to decipher stereograms and many more !