Solution of Easy Game Brain Test Level 11 12 13 14 15 16 17 18 19 20 Walkthrough – Think you're clever enough to solve all the tricky puzzles? play this brain buster to find out now! Enjoy a variety of levels so you can start to test your imagination and logic skills. Apply real-life logic to beat the challenges. Focus on the details and boost your brain power! use these cheat hints if you need a clue and find solutions to the riddles.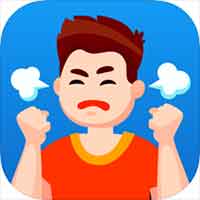 Cheats for Easy Game – Brain Test Answers from Easybrain :
easy game level 11 walkthrough
How many rabbits are there in the hat ?
tilt your phone to make 8 into infinity symbol then press it
easy game level 12 walkthrough
who'll be the first to open the safe ?
shake your phone to make the middle robber come out from the safe
tap him to finish the level
easy game level 13 walkthrough
turn on all the light bulbs
you need to make the 2nd and 3rd switch same size like the light bulb
pinch them out
easy game level 14 walkthrough
guess the card
swipe on the man to see the card he's holding
change the card to the same card
easy game level 15 walkthrough
activate the hourglass
hold the hourglass then tilt your phone upside down
easy game level 16 walkthrough
cross the river
swipe on the screen to find the bridge
easy game level 17 walkthrough
which chest contains gold ?
move the word "gold" under the chest then open the chest to find god
easy game level 18 walkthrough
find the objects
you can find each object positions from the video =)
easy game level 19 walkthrough
guess who this person is based on the things he uses
hold the calculator and shake it to find the word 8055 which is BOSS
easy game level 20 walkthrough
remove three wrong cards from the pack
the wrong cards are :
– 10 hearts (there are 2 of them)
– king of spade
– Joker
Easy Game Brain Test All Levels Walkthrough

Test your IQ and have tons of fun with these tricky brain games! Think outside the box and you'll be a champion! Try this brain twister, challenge your mind, and prove that you're the smartest! What's your IQ? Put your mind to the test and train your brain now!