Guide for Harry Potter Hogwarts Mystery Year 1 Walkthrough – let's start from CHAPTER 1 YOUR JOURNEY BEGINS where after you customize your appearance of hair, lips, eyes, nose, faces you can get to hogwarts to begin your lessons ! meet Rowan Khanna, your first friend to teach you how the game works 🙂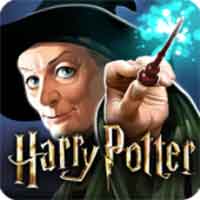 Harry Potter: Hogwarts Mystery by Jam City, Inc. on iOS and Android devices
Enter flourish and blotts to get your books at diagon alley, then go into ollivanders to get your wand ! after you go out and meet rowan then you can finish this chapter.
Harry Potter Hogwarts Mystery Year 1 Full Walkthrough

CHAPTER 2 WELCOME TO HOGWARTS
Perched atop a high mountain, with its turrets, towers and sparkling windows, the strange and splendid Hogwarts Castle awaits you.
gather in the great hall at lower floor – west and talk to McGonagall to begin the sorting ceremony.
you can choose your house here :
1. Gryffindor, the brave and chivalrous
2. Hufflepuff, the kind and diligent
3. Ravenclaw, the witty and wise
4. Slytherin, the cunning and ambitious
you will learn how the house cup works and how to get the house points
now you will go back to your house common room, talk to rowan and you can start to learn lessons : Lumos, in here you will learn how the energy works
after that when you go for Cure for Boils lesson, you will see Merula Snyde bullying Rowan
in here you will learn attributs for each action you choose that will affect the courage, empathy or knowledge
and after Snape cut out your house points, then chapter 2 will complete
now for the next chapter, you can watch the walkthrough in these list of Harry Potter Hogwarts Mystery :
YEAR 1 CHAPTER 3 DEALING WITH TROUBLE
YEAR 1 CHAPTER 4 REVENGE IS BEST SERVED MAGICAL
YEAR 1 CHAPTER 5 THE DUEL
YEAR 1 CHAPTER 6 A CURIOUS CORRIDOR
YEAR 1 CHAPTER 7 CLASS MATTERS
YEAR 1 CHAPTER 8 PREPARING FOR THE ROOM
YEAR 1 CHAPTER 9 INSIDE THE ROOM
YEAR 1 CHAPTER 10 YEAR'S END
on the last chapter of year 1 you only need to gather in the great hall and watch Professor Dumbledore telling the winner of house cup ! so make sure you already number 1, if not then try to get more house points through the lessons 🙂 now go to year 2 to start a new chapter !