Guide for Harry Potter Hogwarts Mystery Year 5 Walkthrough – YEAR 5 CHAPTER 1 YEAR FIVE BEGINS ! You begin your fifth-year facing detention, a new Defense Against the Dark Arts teacher, and the promise of finally finding your brother in the next Cursed Vault.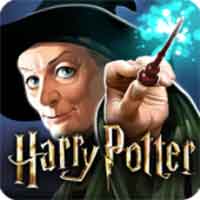 Harry Potter: Hogwarts Mystery by Jam City, Inc. on iOS and Android devices
1. Reunite with your friends in the Great Hall
You will meet Penny with her sister, Beatrice and Penny will asked you :
"How did you spend your summer holidays?"
– Studying the Dark Arts
– Thinking about my brother
– Dreading detention
Harry Potter Hogwarts Mystery Year 5 Walkthrough

then Beatrice will asked you :
"Will you take me on your next curse-breaking adventure?"
– i'd love your help
– i don't want you to get hurt
– it's up to your sister
Finish "Talk to Your Friends" activity with 1 star to pass in 1 hour
2. Meet three Weasleys in the Library
Meet Bill, Charlie and Percy Weasley with Scabbers the rat in the Library (Lower Floor – East)
finish "Study with the Weasleys" with 1 star to pass in 3 hours
3. Meet Rakepick at Night on Training Grounds (Castle Grounds)
She will said :
"I look forward to showing each of you how to leave a lasting impact on the wizarding world"
and your response to choose :
– I'm honoured
– You have to earn our trust
– Why Merula ?
Then finish "Learn the Incarcerous Spell" with 5 stars to pass in 3 hours
this Incarcerous Spell is usable in duelling
4. Comfort Ben after his attack last year
Meet Ben in the Courtyard (Lower Floor – West)
Finish "Talk About Ben's Attack" with 1 star to pass in 8 hours
Then Ben will asked you "After everything that's happened, do you still trust me?"
– I trust you (Level 9 friendship with ben)
– I don't trust you
– I'm not sure
and the Dark Wizard will attack you both
2 Lessons that you need to finish in this chapter :
Charm Class : Cheering Charm
DADA class : Ghouls
Defence Against the Dark Arts Classroom

now for the next chapter, you can watch the walkthrough in these list of Harry Potter Hogwarts Mystery :
Year 5 Chapter 2 Grave Danger
YEAR 5 Chapter 3 Detention Before Extention
YEAR 5 Chapter 4 Opposite Day
YEAR 5 Chapter 5 Penny, Portraits, Peace And Pressure
YEAR 5 Chapter 6 The Ghosts Of Hogwarts
YEAR 5 Chapter 7
YEAR 5 Chapter 8
YEAR 5 Chapter 9
YEAR 5 Chapter 10
Side Quest :
Yer A Prefect – House Points
Egg Hunt
Happy Birthday Hagrid