Cheat for MechBox 2 Level 12 Walkthrough how to solve the puzzle logic and password code to open the button and continue to the next stage of the m-box 2 ! Every puzzle can be solved if you pay attention to details and think logically and creatively !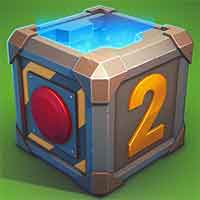 MechBox 2: Hardest Puzzle Ever on android and iphone
M-Box 2 Stage 12 Solution :

MechBox 2 Stage 12 Walkthrough
match each symbol from 24 keypad button, when you get it wrong then it will reset
after you're done there will be 4 elements
create new elements using alchemy combination then pressing the gear button, here's the list :
earth + water = swamp
earth + fire = lava
water + fire = alcohol
laval + water = stone
stone + air = sand
fire + sand = glass
stone + fire = metal
fire + alcohol = energy
energy + swamp = life
life + sand = seeds
earth + seeds = tree
metal + energy = electricity
electricity + glass = light bulb
stone + life = egg
egg + swamp = lizard
lizard + earth = animal
life + animal = human
electricity + light bulb = light
human + light = eye
eye + glass = lens
now get tree, fire to boil the water on right
get light bulb put it on right side
get lens and place it on the plug from water
take the crack keypad button on bottom left and place it on the middle
the light will get reflected and you'll see the green button
tap the button and escape to Mechanical Box 2 stage 13
The Mechanical Box is one of the last fragments of the technology used by the Ancients and still existing in the post-apocalyptic world of the alternative Earth. A high-tech device created with only one purpose: to store and protect an unknown Object inside.