Cheats for Neighbours from Hell – Season 1 Walkthrough ios / android gameplay ! Creep around your neighbour 's house performing ever more elaborate tricks upon the unsuspecting resident, hides and play the trick !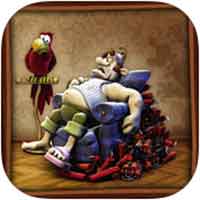 Neighbours from Hell – Season 1 By THQ Nordic GmbH on iphone and android
Neighbours from Hell iOS / Android Walkthrough

Learn 3 Introduction Levels : first step – onwards and upwards – expert moves
As the star of a fantastic new TV show, cameras will track your every move as you set your fiendish traps. Your objectives are to create more and more disarray, increase ratings and maybe even winning prestigious awards. But beware of watchful neighbors and alert guard dogs; if they catch you then the show will be taken off air.
Neighbours from Hell: Season 1 At Home Walkthrough :
Season 1 :
Level 1 Neighbours from Hell The First Trick Walkthrough
Level 2 Neighbours from Hell TV Afternoon Walkthrough
Level 3 Neighbours from Hell Birthday Surprises Walkthrough
Level 4 Neighbours from Hell The Apple Pie Walkthrough
Level 5 Neighbours from Hell The Old Spoilsport Walkthrough
Level 6 Neighbours from Hell Bath Time Walkthrough
Season 2 :
Level 7 Neighbours from Hell Art For Mum's Sake Walkthrough
Level 8 Neighbours from Hell A Sunny Morning Walkthrough
Level 9 Neighbours from Hell One Little Piggy Walkthrough
Level 10 Neighbours from Hell Barbecue Time Walkthrough
Season 3 :
Level 11 Neighbours from Hell Laundry Day Walkthrough
Level 12 Neighbours from Hell Fitness Frenzy Walkthrough
Level 13 Neighbours from Hell Do It Yourself Walkthrough
Level 14 Neighbours from Hell Night Of The Hunter Walkthrough
Key Features Neighbours from Hell (Full Version of the game) :
– 14 hugely varied episodes of anarchy
– Use stealth, skill and style to perform the perfect ambush
– Easy to use interface and controls
– Superb cartoon-style graphics
– Excellent soundtrack