Cheats for Neighbours from Hell Season 2 Walkthrough ios / android gameplay ! Get the Neighbour from Hell into his mum's and fellow travellers' bad books, play tricks on him and give free reign to your vengeance.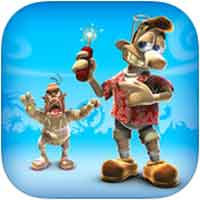 Neighbours from Hell – Season 2 By THQ Nordic GmbH on iphone and android
The reality TV show of neighbourly nastiness and community commotion moves on to the next round.
Neighbours from Hell On Vacation iOS / Android Walkthrough

All Aboard – the neighbour, flirting
The neighbour needs a respite from woody's tricks and books a trip round the world to get away from him. He doesn't reckon on woody following him on board the cruiser with an inconspicuous camera crew.
In this episode you'll learn how to control woody and play tricks on the neighbour from hell. Have fun !
The Neighbour from Hell wants to enjoy an undeserved holiday – reason enough for Woody and the camera team to sneak along onto the cruise liner to make the nasty neighbour's holiday a living hell. This time, the neighbour's mum has joined him, and she is taking good care of her baby.
Neighbours from Hell: Season 2 On Vacation Walkthrough :
Level 1 Neighbours from Hell All Aboard Walkthrough
Level 2 Neighbours from Hell Covert Advance Walkthrough
Level 3 Neighbours from Hell The Cabin Is Occupied Walkthrough
Level 4 Neighbours from Hell For Whom The Gong Sounds Walkthrough
Level 5 Neighbours from Hell Ping Pong Fucius Walkthrough
Level 6 Neighbours from Hell Every Shot A Hit Walkthrough
Level 7 Neighbours from Hell Mummy's Darling Walkthrough
Level 8 Neighbours from Hell Above The Clouds Walkthrough
Level 9 Neighbours from Hell Burning With Ambition Walkthrough
Level 10 Neighbours from Hell The Enlightenment Walkthrough
Level 11 Neighbours from Hell Neighbour Over Board Walkthrough
Level 12 Neighbours from Hell Action Walkthrough
Level 13 Neighbours from Hell Eat And Be Eaten Walkthrough
Level 14 Neighbours from Hell Don't Panic Walkthrough
Key Features Neighbours from Hell: Season 2 – On Vacation (full game version):
– 14 new tricky and highly detailed episodes of anarchy of the popular "NEIGHBOURS FROM HELL SHOW"
– 6 different locations in China, India, Mexico and on the cruise liner
– More than 5 new characters and numerous animals
– New cool soundtrack reflecting the countries our characters visit