Game Cheats for One Clue Crossword Answers – Welcome to one clue crossword solutions, use the picture below the crossword to solve every word in the puzzle. For a closer look at the picture, touch once, then again when done. Select the highlighted word, touch the letters below the picture to complete the word puzzle and if you make a mistake touch a letter in the word to remove it.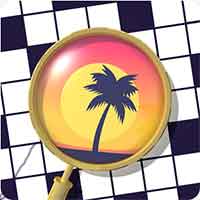 One Clue Crossword : examine pics to solve crosswords! app game by AppyNation Ltd. on ios iphone and android devices.
from the pizza picture you can get words for horizontal dough, napkin, pepperoni, tomatoes, basil and vertical words ham, meal, olive, cheese, mushrooms, pizza.
Complete this word, then try another. Complete the whole puzzle to earn more rewards.

Complete every chapter of the puzzle grid to reveal the hidden crossword ! for chapter 1 you can get :
RANCH
APE
CHILD
HAPPY
ONE CLUE CROSSWORD is a new kind of crossword puzzle. Instead of a list of written clues, crosswords include a single picture. Some of the answers will be a simple case of saying what you see – but sometimes you might have to think a little more laterally! As you unlock each chapter you'll find new puzzles and pictures – there are people, places, animals, food, vehicles, household objects and lots more.