Rage Face Love Story Walkthrough – Have a bad mood? Want to make some fun? Express your rage and anger about getting rejected in Rage Face Love Story now! there are 3 chapter stage to play so far : daily life, circus and halloween ! beat the game by finding the correct answer of object to press.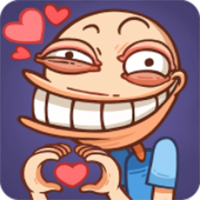 Rage Face Love Story puzzle game by Italy Games
Rage Face Love Story Full Walkthrough :

For the rage boy, life couldn't be worse – until a sudden return of his old girlfriend after a mysterious disappearance years ago. Help the rage boy win his troll girlfriend back and propose to her in this RAGE FACE love story!
Cheats of Rage Face Love Story Solutions :
1. daily life
rage face love story level 1-1 walkthrough
rage face love story level 1-2 walkthrough
rage face love story level 1-3 walkthrough
rage face love story level 1-4 walkthrough
rage face love story level 1-5 walkthrough
rage face love story level 1-6 walkthrough
rage face love story level 1-7 walkthrough
rage face love story level 1-8 walkthrough
rage face love story level 1-9 walkthrough
rage face love story level 1-10 walkthrough
rage face love story level 1-11 walkthrough
rage face love story level 1-12 walkthrough
rage face love story level 1-13 walkthrough
rage face love story level 1-14 walkthrough
2. circus
rage face love story level 2-1 walkthrough
rage face love story level 2-2 walkthrough
rage face love story level 2-3 walkthrough
rage face love story level 2-4 walkthrough
rage face love story level 2-5 walkthrough
rage face love story level 2-6 walkthrough
rage face love story level 2-7 walkthrough
rage face love story level 2-8 walkthrough
rage face love story level 2-9 walkthrough
rage face love story level 2-10 walkthrough
rage face love story level 2-11 walkthrough
rage face love story level 2-12 walkthrough
rage face love story level 2-13 walkthrough
rage face love story level 2-14 walkthrough
rage face love story level 2-15 walkthrough
3. halloween
rage face love story level 3-1 walkthrough
rage face love story level 3-2 walkthrough
rage face love story level 3-3 walkthrough
rage face love story level 3-4 walkthrough
rage face love story level 3-5 walkthrough
rage face love story level 3-6 walkthrough
rage face love story level 3-7 walkthrough
rage face love story level 3-8 walkthrough
rage face love story level 3-9 walkthrough
rage face love story level 3-10 walkthrough
rage face love story level 3-11 walkthrough
rage face love story level 3-12 walkthrough
rage face love story level 3-13 walkthrough
rage face love story level 3-14 walkthrough
rage face love story level 3-15 walkthrough
rage face love story level 3-16 walkthrough
Game Features:
– Rage comic characters with funny cartoon faces like internet memes
– Uncover secrets and solve the prank puzzles in 45+ manually designed levels
– Easy but fun point and click gameplay with no time limit