Game Cheat for Score Hero Level 26 27 28 29 30 Walkthrough to get 3 stars on each level challenge ! To kick the ball, draw a line for the path of the ball. Draw a line to your teammate to pass the ball, and create a chance to score!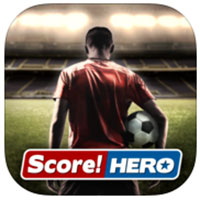 Score! Hero App Game by First Touch Games Ltd. that you can play on ios devices iphone and ipad.
Tap on your hero player to make him the target man for the cross!
score hero level 26 walkthrough

score 1 goal
goal with your hero
within 10 yards
score hero level 27 walkthrough

score 1 goal
top corner
off the post
score hero level 28 walkthrough

score 1 goal
top corner
within 10 yards
score hero level 29 walkthrough

score 2 goals
goal with your hero
assist with your hero
score hero level 30 walkthrough

score 1 goal
goal with your hero
more than 25 yards
Play the ball into space ahead of your teammate to get a clear shot on goal. This will help prevent the opposition from intercepting the ball.
Pass, Shoot & Score your way to legendary status, as you explore the dramatic career of your HERO player over 200 challenging levels!
return to all levels of score hero walkthrough video guide