Win Walter Aragon Wizard Chess Grand Prize in Hogwarts Mystery The Curse Breaker's Gambit ! Checkmate ! A new TLSQ has arrived, and it's time to show the world of wizard chess what you're made of in The Curse-Breaker's Gambit. Murphy wants to sign up for a prestigious wizard chess competition, but in order to do that you'll first need to help him form a wizard chess team to represent Hogwarts ! This side quest will trigger for you once you get to year 5 chapter 18.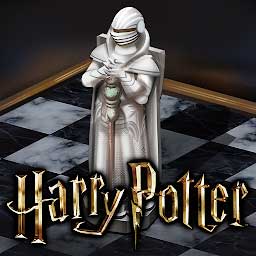 Harry Potter: Hogwarts Mystery by Jam City, Inc. on iOS and Android devices

The requirements are different depending on where in the main story you are. The first requirements are for Year 5 to Year 6 Chapter 23. The second requirements are for Year 6 Chapter 24 to Year 7 Chapter 35. The third requirements are for Year 7 Chapter 36 onwards.
REQUIREMENTS – GATHERING INFO
The Curse Breaker's Gambit Part 1
Task 1 of 4 – 1 Hour, 3 Stars, 24 Energy / 25 Energy / 30 Energy. Murphy level 7 friendship check.
Task 2 of 4 – 3 Hours, 5 Stars, 66 Energy / 71 Energy / 84 Energy
Task 3 of 4 – 3 Hours, 5 Stars, 66 Energy / 71 Energy / 84 Energy
Task 4 of 4 – 3 Hours, 5 Stars, 66 Energy / 71 Energy / 84 Energy
Reward: 300 Coins
The Curse Breaker's Gambit Part 2
The chess set of a mystery owner may be the key to a tournament win… but complications arise when a piece goes missing!
Task 1 of 4 – 3 Hours, 5 Stars, 66 Energy / 71 Energy / 84 Energy
3h wait.
Task 2 of 4 – 1 Hour, 3 Stars, 24 Energy / 25 Energy / 30 Energy
Task 3 of 4 – 3 Hours, 5 Stars, 66 Energy / 71 Energy / 84 Energy
Task 4 of 4 – 3 Hours, 5 Stars, 66 Energy / 71 Energy / 84 Energy
Reward: 3 Gems, 1 Chocolate Frog
The Curse Breaker's Gambit Part 3
Now that you've tracked down Gagwilde's lost Queen, it's time to train for the wizard chess tournament! but as tensions begin to run high, will your team be able to handle the pressure?
5h wait.
Task 1 of 4 – 8 Hours, 5 Stars, 109 Energy / 117 Energy / 138 Energy
Task 2 of 4 – 3 Hours, 5 Stars, 66 Energy / 71 Energy / 84 Energy
Task 3 of 4 – 3 Hours, 5 Stars, 66 Energy / 71 Energy / 84 Energy
Task 4 of 4 – 3 Hours, 5 Stars, 66 Energy / 71 Energy / 84 Energy
Reward: 3 Gems
The Curse Breaker's Gambit Part 4
It's time to contend for glory in the Walter Aragon Wizard Chess Competition! But is your team ready to take on Celine Castillon and her mates from Beauxbatons?
4h wait.
Task 1 of 4 – 8 Hours, 5 Stars, 109 Energy / 117 Energy / 138 Energy
Task 2 of 4 – 3 Hours, 5 Stars, 66 Energy / 71 Energy / 84 Energy
Task 3 of 4 – 8 Hours, 5 Stars, 109 Energy / 117 Energy / 138 Energy
Task 4 of 4 – 3 Hours, 5 Stars, 66 Energy / 71 Energy / 84 Energy
Reward: 4 Gems, 1000 Experience, 3 Chocolate Frogs, Chess Trophy tappie (1 energy every 26 hours)