Guide for Year 5 Chapter 12 Harry Potter Hogwarts Mystery The Vault of Portrait Walkthrough – A Mysterious portrait of a Cursed Vault could be the key to saving Beatrice, but what else will this key unlock?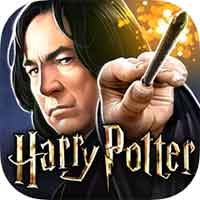 Harry Potter: Hogwarts Mystery by Jam City, Inc. on iOS and Android devices
Harry Potter Hogwarts Mystery Year 5 Chapter 12 Walkthrough

There are 6 task in year 5 chapter 12 :
1. Meet Rakepick at DADA Classroom (East Towers)
Learn more about the Marauder's Map and its current owner
Madam Rakepick will say :
You will have to trust that i'm keeping his identity from you for your own good…
– I trust you
– I don't trust you
finish "Consult Your Classmates" activity with 1 star to pass in 3 hours
2. Meet Badeea at Grand Staircase (Lower Floor – West)
Speak to the portraits with Badeea
Badeea will ask you :
What do you think Professor Rakepick meant by the vault portrait being more than a portrait?
– I think it's cursed
– I think it's enchanted
– I think it's a lie
finish "Gather Information" with 1 star to pass in 1 hour
3. Meet your friends at Library (Lower Floor – East)
Study the vault portrait with your friends
Rowan will say Sorry, and your respond :
– You should be sorry
– You don't need to apologise
– I only care about the vaults
finish "Research the Vault Portrait" activity with 1 star to pass in 3 hours
4. Meet Jae at Kitchens (Dungeons)
Ask House-Eleves about the vault portrait
finish "Talk to House-Elves" with 1 star to pass in 3 hours
5. Meet Jae at Gryffindor House (West Towers) – 3 hrs waiting time
Search the Gryffindor Common Room with Jae
finish "Search for Vault Portrait" activity with 1 star to pass in 8 hours
You will respond to Percy :
– Pretend this never happened
– Ask Bill what to do
– Do whatever you think is best
6. Meet Hagrid at Hagrid's Hut (Castle Grounds)
Visit Hagrid with Jae
Hagrid will say :
Ah! Yer abou' that age! I'm sure yeh wan' me teh tell yeh everythin' i know abou' romance!
– No, not really…
– Actually, that would be brilliant
– You know about romance?!
finish "Explain Your Plan" with 1 star to pass in 3 hours
There are 2 Lessons to learn in order to finish this chapter :
– Charms Classroom : Locomotor Mortis
– Herbology Classroom : Dittany