Guide for Year 5 Chapter 24 Harry Potter Hogwarts Mystery Dark Pranks Walkthrough – Plotting your mischief masterpiece takes a dark turn as you search for a rare and unusual prank.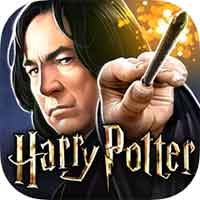 Harry Potter: Hogwarts Mystery by Jam City, Inc. on iOS and Android devices
Harry Potter Hogwarts Mystery Year 5 Chapter 24 Walkthrough

There are 8 task in year 5 chapter 24 :
1. Go to the Hog's Head Inn (Hogsmeade)
Get Prank Ideas from Bilton Bilmes
Bilton will say :
I'm delighted to see the Hog's Head Inn is becoming your meeting place :
– I wish!
– No way!
finish "Get Prank Ideas from Bilton Bilmes" activity with 1 star to pass in 1 hour
2. Go to Detention at Kitchens (Dungeons)
Ask Jae about Banned Pranks
Jae will ask you :
How do you feel about pulling off a prank that's banned?
– Excited
– Reluctant
finish "Ask Jae about Banned Pranks" acitivity with 1 star to pass in 3 hours
3. Meet Mundungus Fletcher at Three Broomsticks (Hogsmeade)
Make a Deal with Mundungus Fletcher
finish "Make a Deal with Mundungus Fletcher" activity with 1 star to pass in 3 hours
Mundungus Fletcher will ask you :
What? Y'fink I'm not givin' you a fair deal?
– It's fair
– It's not fair
4. Go to Knockturn Alley (Diagon Alley)
Duel a Dark Wizard for Mundungus Fletcher
Mundungus Fletcher will ask you :
What's yer plan?
– Negotiate with the Dark Wizard
– Challenge the Dark Wizard
– Sneak Attack
Duel a Dark Wizard with Recommended Attribute Levels : 22 22 22
5. Meet Jae, Tonks, and Tulip at Corridor (Lower Floor – West)
Plot with Jae, Tonks, and Tulip
finish "Plot with Jae, Tonks, and Tulip" activity with 1 star to pass in 3 hours
There are 2 Lessons to learn in order to finish this chapter :
– Transfiguration Classroom : Switch : Tortoise & Hare (3 hours 5 stars to pass)
– DADA Classroom : Reductor Curse (3 hours 5 stars to pass)
now continue to year 5 Chapter 25 : Creature of Chaos