Guide for Year 6 Chapter 2 Harry Potter Hogwarts Mystery Curses And Prophecies Walkthrough – The race to the last Cursed Vault may be on, but new troubles have students at Hogwarts scared stiff.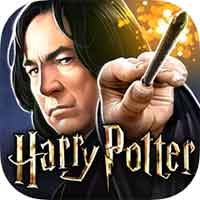 Harry Potter: Hogwarts Mystery by Jam City, Inc. on iOS and Android devices
Harry Potter Hogwarts Mystery Year 6 Chapter 2 Walkthrough

There are 4 task in year 6 chapter 2 :
1. Meet Penny at Three Broomsticks (Hogsmeade)
Learn about Penny's troubles with Beatrice
Gain Penny's Trust with 3 diamonds to pass
recommended attributes : 23 24 22
*** 3 hours waiting time or 55 gems to pass
2. Find Beatrice at Courtyard (Lower Floor – West)
See Beatrice's transformation
Andre will say :
You can learn a lot about behaviour – and style – by watching others..
your response :
– People-watching is fun
– People-watching is creepy
Ismelda will ask you :
Why do you even care ?
– I care for Penny (level 7 friendship with penny)
– i'm worried for Beatrice
– I don't really care
finish "Persuade Beatrice" activity with 1 star to pass in 3 hours
3. Meet Barnaby at Training Grounds (Castle Grounds)
Get friendship advice from Barnaby
your response to barnaby painting :
– Impressive!
– Special…
– Bad. Just bad.
Duel barnaby in "Teach a Duelling Lesson"
with recommended attribute levels : 24 23 21
*** 8 hours waiting time or 100 gems to pass
4. Got to the Courtyard (Lower Floor – West)
Investigate a new curse
finish "Investigate the Statue Curse" activity with 1 star to pass in 3 hours
5. First Divination Class at Divination Classroom (East Towers)
Learn Tessomancy in Divination Class
Professor Trelawney will ask you :
Why have you elected to take Divination Class ?
– I'm a believer
– I'm a skeptic
finish "Study Tea Leaves" activity with 3 star to pass in 3 hours
There are 2 Lessons to learn in order to finish this chapter :
– Herbology Classroom : Fluxweed (5 stars in 3 hours)
– History of Magic Classroom : History of Wandlore (5 stars in 8 hours)
now continue to year 6 Chapter 3 : Mixed Massage