Answers of Brain Out Level 206 207 208 209 210 Walkthrough for every question and logic behind it so you can understand completely how to solve each levels in this brain puzzle education game 🙂 Think outside the box and run your imagination now! Remember that the solution subverts normal thinking is the most interesting thing in this trivia game, so have a new experience with creative thinking and absurd solution.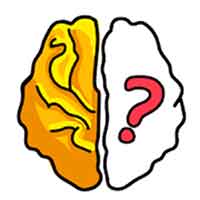 Cheats for Brain Out Answers from Focus apps :
Brain Out Level 206 207 208 209 210 Solutions

brain out level 206 walkthrough
reach the end
turn the device upside down
brain out level 207 walkthrough
enter password
37×50 = ?
the answer is "?"
brain out level 208 walkthrough
do not tap
just wait and leave your phone for a while
brain out level 209 walkthrough
get rid of sadako
turn off the TV by pressing the button
brain out level 210 walkthrough
shoot a basket
turn your device and let the basketball run to hoop
So many trivia questions to boost your brain power. The perfect combination of knowledge and creativity, exercise your mind with the triple test of EQ, IQ and dumbfounded challenge. This Brain Out game full of spoof, fun and subvert your imagination!