Solutions of Brain Out Level 221 222 223 224 225 Walkthrough for every question and logic behind it so you can understand completely how to solve each levels in this brain puzzle education game 🙂 Think outside the box and run your imagination now! Remember that the solution subverts normal thinking is the most interesting thing in this trivia game, so have a new experience with creative thinking and absurd solution.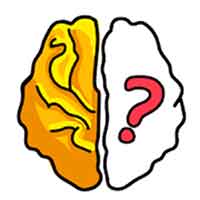 Cheats for Brain Out Answers from Focus apps :
Brain Out Level 221 222 223 224 225 Solutions

brain out level 221 walkthrough
how to dodge the attack
zoom out the screen to find the burrow, move him to the burrow
brain out level 222 walkthrough
cross the end!
drive the car to bypass title and above the "end"
brain out level 223 walkthrough
find the chick
zoom out the screen to find the mother chicken
move her to the eggs so the egg crack
momve her again to see the chick
brain out level 224 walkthrough
help the boy to win
move the girl to the middle
brain out level 225 walkthrough
escape the room
there's a number on curtain 9342
slide the curtain and zoom in on the lockpad
So many trivia questions to boost your brain power. The perfect combination of knowledge and creativity, exercise your mind with the triple test of EQ, IQ and dumbfounded challenge. This Brain Out game full of spoof, fun and subvert your imagination!