Solutions for DNBHL Level 16 17 18 19 20 Walkthrough with explanation how to solve puzzle code on each levels that you don't understand the question what to do ? This riddle game provides a dark and scary experience that will get you tremendously excited.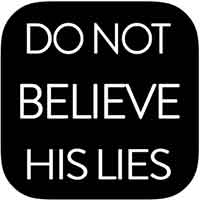 Do Not Believe His Lies : The Unforgiving Riddle by theM Dev for android and ios
DNBHL Level 16 Walkthrough
/r/dnbhl
it's like looking into a mirror
go to the link on reddit and it will give you the answer
enter code : I AM STILL HERE
DNBHL Level 17 Walkthrough
the video contain a painting by Henry Fuseli, figure out the painting name
enter code : THE NIGHTMARE
DNBHL Level 18 Walkthrough
Listen Transcribe
you will hear a language called Esperanto, a form of modern Greek.
the numbers said are: Kvin – nau – dekses – deksep – dudekkvar – kvardektri
if you translate it : 5 – 9 – 16 – 17 – 24 – 43
enter code : 5916172443
DNBHL Level 19 Walkthrough
LET'S MAKE
A BIG MESS
IF WE OPEN
OUR EAR
MORE PEOPLE
CATCH FIRE
connect the letters that sticking out on left and right side :
LE – SS – I – S – MO – RE
enter code : LESS IS MORE
DNBHL Level 20 Walkthrough
the white dots is making a star constellation
enter code : URSA MAJOR
Only the Weak Give Up. It always seems impossible, until it's done! To pass the answer on each level will requires time and a lot of thought, it can be a cut-out and combined a puzzle, translated morse codes, decrypted a photo, watched a heart pumping video, learning how to decipher stereograms and many more !