Solution of Doors & Rooms 3 Chapter 1 Stage 1 Walkthrough – Find clues and solve puzzle on the room then escape !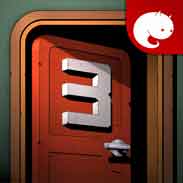 Doors&Rooms 3 by Gameday.Global on android and ios iphone / ipad
Find flower and 2 leaf to open safe for bathroom key, look for item to use it as handle to open the cabinet inside bathroom for powder to reveal finger prints on safe.
doors and rooms 3 chapter 1 stage 1 video guide :

doors & rooms 3 chapter 1 stage 1 walkthrough
If you have obtained the remote control, try turning on the TV ! Find the battery first.
4 Numbers are shown on the TV ! Four digit combination lock for the closet!
A pretty gift is hidden in the safe within the closet. When you find one budding flower block and 2 petals blocks, hurry and try utilizing them.
You have no idea on how to use the object you found in the black bag ? try to wash your hands.
Now that i'm looking at it carefully, the water faucet lever looks like the handle of the cupboard.
The sight of the razor makes me want to rip up a paper-like material.
When you press a button with greasy hands, it always leaves finger prints more visible.
where to find secret item :
the worms that birds love to eat live in the soil, worms sprout out of the dirty on a rainy day 😛
use watering can on water from bathroom and use it on the plant to get worm
give the worm to bird on birdcage to get keycard