Solution of Doors & Rooms 3 Chapter 1 Stage 10 Walkthrough – Find clues and solve puzzle on the room then escape !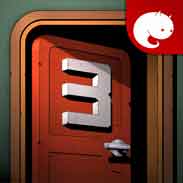 Doors&Rooms 3 by Gameday.Global on android and ios iphone / ipad
There are some card symbols on this room with number, on the lift there's a button that you can press.. here's the order :
Diamond 1, Club 2, Heart 3, Diamond 4, Club 5, Spade 6
doors and rooms 3 chapter 1 stage 10 video guide :

doors & rooms 3 chapter 1 stage 10 walkthrough
Find gun and shoot at the lock to open the elevator, and don't forget the bullets !
Check the elevator carefully, and you will find where to use the driver.
Have you printed photos ? You need printing solution to print photos.
Put printing solution in the rectangular frame and put the photo in it !
When you take the photo out, bewarenot to use your hands !
Laser walls are nothing to be afraid of. Shoot and break the laser power supply switch located inside !
Look carefully at the elevator areas in B1 and 2. You will then notice the trump card image !
If you press the button on the elevator floor, in the order then you will obtain a valuable item !
Check the printed photo under a green light, and you will see that the numbers have colors !
When installing a green lens, always check to make sure the electricity is not turned on !
Using a driver, you will be able to remove the back image panel of the shotgun. Why don't you give it a shot ?