Solution of Doors & Rooms 3 Chapter 1 Stage 5 Walkthrough – Find clues and solve puzzle on the room then escape !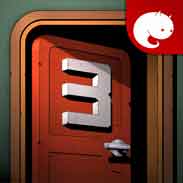 Doors&Rooms 3 by Gameday.Global on android and ios iphone / ipad
To solve the puzzle direction, you can start from the 1st row and 2nd column then follow the direction.
doors and rooms 3 chapter 1 stage 5 video guide :

doors & rooms 3 chapter 1 stage 5 walkthrough
Knife is a superb item useful for multiple things. You can tear up a fabric or remove a floorboard with widened gaps!
Umbrellas may be useful in the rain, but they're also useful when people want to operate something that is out of reach.
Find the blue gem, place it in the eye of the dragon statue, and pull the lever. It will lead you to a new space!
If you look at the wall carefully, you will notice a wooden portion. You can use explosives to obtain what you want.
Can't find the explosives ? the lighter and the pen with the red gem are very dangerous items!
How many times did you get pricked by the thorn ? You didn't think that glases just ordinary glasses ?
Utilize the glasses somewhere and you will find the correct order of pressing the buttons.
where to find secret item :
if you combine the blue gem you used on the statue with the pen, a bluish pen will be created!
Try using that on somewhere blue and you might obtain something valuable!