Solution of Doors & Rooms 3 Chapter 1 Stage 6 Walkthrough – Find clues and solve puzzle on the room then escape !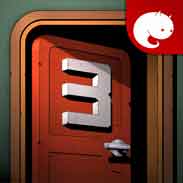 Doors&Rooms 3 by Gameday.Global on android and ios iphone / ipad
To solve stethoscope + safe box puzzle, you can follow this cheat direction :
Left (3) Button
Left (2) Button
Right (5) Button
Left (7) Button
Right (4) Button
doors and rooms 3 chapter 1 stage 6 video guide :

doors & rooms 3 chapter 1 stage 6 walkthrough
You can erase all types of smudges with a mop and the omnipotent detergent.
Must remember the pictures that appeared on the floor since it may be an important hint.
I think we may be able to pen the door with the circuit breaker by installing batteries and pressing the button.
Want to stop the trap installed in the WIFI circuit breaker ? The pliers hanging on the ventilator may help.
You know that safe on the wall ? I think a round pipe would be able to turn it. Do you think we can cut that and use it ?
Rust remover spray ! It will be useful for moving something rusty.
Do you remember actors using a stethoscope to listen and open a safe in movies?
Turn on the WIFI router and check the tablet PC sitting on the desk. It will show you which way to turn the safe.
By the way, you will really have to listen carefully!