Solution of Doors & Rooms 3 Chapter 1 Stage 9 Walkthrough – Find clues and solve puzzle on the room then escape !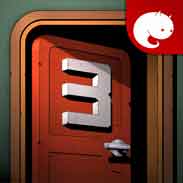 Doors&Rooms 3 by Gameday.Global on android and ios iphone / ipad
The compass is pointing on clock's direction when you put magnet on map :
Red (7), Purple (5), Orange (2), Green (9)
doors and rooms 3 chapter 1 stage 9 video guide :

doors & rooms 3 chapter 1 stage 9 walkthrough
Do you see the crack on the floor where the fireplace is ? Don't you think you can tear up the floor using the claw hammer?
It's not a smart idea to open the gas valve where electricity is running.
You might want to check if the gas pipe is connected first ! IF it is connected, wouldn't the gas-stove work?
To make a bomb, put some black powder in the bamboo container and insert the wick.
Think about where to use it and don't forget you need fire to light the bomb
See the compass on the table turn when you put the magnet on it ?
While imagining a clock, look carefully at the colors and the direction where the compass points.
where to find secret item :
Light the fire where the kettle is and the answer will appear on the mirror when the water boils and steams up the mirror.
Light the fireplace then go up to the 2nd floor. Enter the answer found on the mirror and you will find the secret item below the hot fireplace.
Be cautious and take it !