Solution of Doors & Rooms 3 Chapter 2 Stage 1 Walkthrough – Find clues and solve puzzle on the kitchen + restaurant room then escape !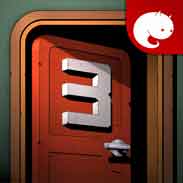 Doors&Rooms 3 by Gameday.Global on android and ios iphone / ipad
read the tartar fish fry recipe on right paper and create the food to feed the cat with key on the necklace.
doors and rooms 3 chapter 2 stage 1 video guide :

doors & rooms 3 chapter 2 stage 1 walkthrough
The frozen fish must be thawed in the boiling water before you can eat them. Don't forget to use a tool to take them out of the water!
Before you put the batter on the fish, first you have to coat them with the egg mixture. Don't even think about using your hands to mix the eggs!
When you put the battered fish into the boiling oil, the delicious fish tempura is complete! Again, don't forget to use a tool to take them out of the oil.
Fried fish alone isn't enough to lure the cat outside! You need to apply the tartar sauce so the cat will smell it and come into the store!
If you use a coin, you can loosen a screw that doesn't easlity untighten.
If you take a closer look at the coin, you can learn the escape door's password.
where to find secret item :
remove the hay from inside the henhouse, a box with secret key will appear ! The locked screw on the box can be loosened with something round, a coin.