Friendship guide for Harry Potter Hogwarts Mystery Andre Egwu Walkthrough – Andre has a passion for Quidditch matched only by his passion for wizard fashion. He works hard, plays hard and dresses the part.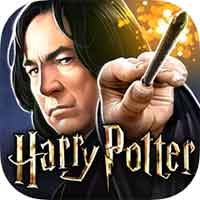 Harry Potter: Hogwarts Mystery by Jam City, Inc. on iOS and Android devices
You will meet andre egwu on the first chapter of year 3 : Harry Potter Hogwarts Mystery Three Broomsticks, where he will give you a new outfit that you can choose to explore Hogmeade :
– a cool coat
– a stylish scarf
– some smart trouser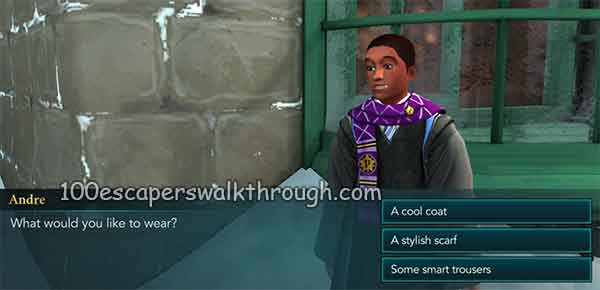 and also he is the first one that say something about romance in this game ! maybe someday we will get a real dating feature ? not just hanging out thing..
Harry Potter Hogwarts Mystery Andre Egwu Walkthrough

Here are the answers for Andre Egwu Friendships :
Meal with a Friend – Beat Andre's Fashion Quiz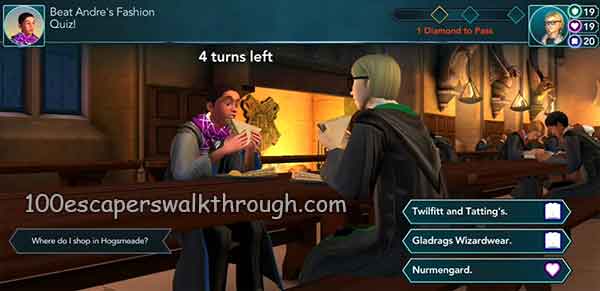 Where do i shop in Hogsmeade ?
o Gladrags Wizardwear
x Nurmengard
x Twilfitt and Tatting's
Who is the President of F.A.R.T. ?
o Archie Aymslowe
x Archie Aymslong
x Archie Acromantula
Who's fashionable wizard ?
o Albus Dumbledore
o Gilderoy Lockhart
x Rubeus Hagrid
What notes rules for public attire ?
o International Statue of Secrecy
x International Statue of Sorcery
x International House of Porlocks
Play Gobstones – Beat Andre's Quidditch Quiz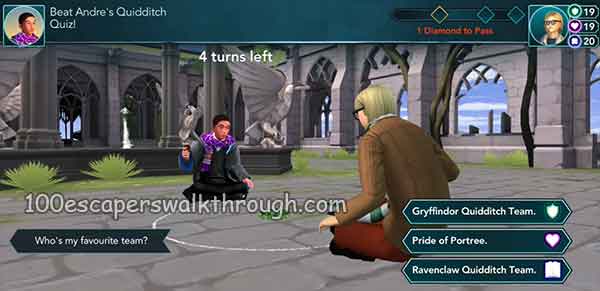 Who's my favourite team ?
o Pride of Portree
v Ravenclaw Quidditch Team
x Gryffindor Quidditch Team
What game predates Quidditch ?
o Shuntbumps
o Swivenhodge
x Serpensortia
What position does Charlie play ?
o Seeker
x Keeper
x Streeler
Who was a Quidditch referee ?
o Cyprian Youdle
o Leopoldina Smethwyck
x Glynnis Griffiths
Drink Butterbeer – Prove how well you know Andre !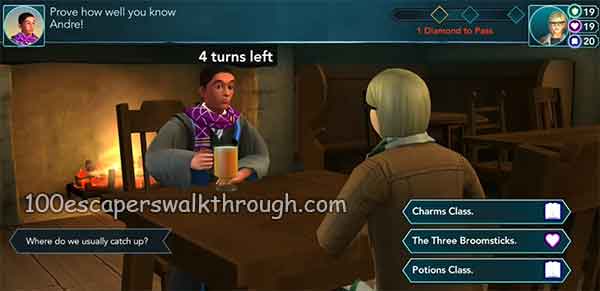 where do we usually catch up ?
o The Three Broomsticks
x Charms Class
x Potions Class
Who do i support ?
o Pride of Portree
x The Bellycastle Bats
x Appleby Arrows
What's my nickname for you ?
o Curse-Breaker
x Rule-Breaker
x Broom-Breaker
What am i known for ?
o Playing Quidditch
v Knowing fashion
x Studying Apparition
when you reach level 10 of andre egwu friendship, you will get this outfit reward :