Full Chapter 1 2 3 4 5 6 7 8 Solutions of Adventure Escape Mysteries The Covenant Walkthrough – Play as Samantha and reveal the mystery of the convenant ! vote for your friends and find out who is the traitor in your group.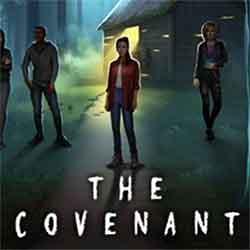 Room Escape game answer Adventure Escape Mysteries : The Covenant by Haiku Games
video guide The Covenant Full Game Chapter cheats how to solve each puzzle & code :

here's the story for each chapter :
The Covenant Chapter 2 Walkthrough
The teens split up to search for Mr. Sparks — and find more than they bargained for. Who will Sam trust with her life?
The Covenant Chapter 3
All path are blocked by the creature! Food and morale are low, and soon it will be night. Can Sam lead the way?
The Covenant Chapter 4
Good news arrives in the morning – but at what cost? Sam and her buddy investigate to the north. Can they contact the outside?
The Covenant Chapter 5
The monster's lair is spotted. Sam and her buddy head toward the enemy – and face a terrible moral choice.
The Covenant Chapter 6
Devastated by last night's vote, Sam struggles to go on. Mark locates his grandmother's mansion. Can they find the chains that will bind The Hunger?
The Covenant Chapter 7
The ambush at the campsite failed! Now, the teens head to Grant Lake to confront The Hunger. Sam must face her darkest fears. Will anyone survive?
The Covenant Chapter 8
Sam is voted off! Now everyone has to think fast to survive in this final, terrifying chapter. Who will fulfill the Covenant and see the future?
Uncover the secrets of AE Myteries : The Covenant! I want to know if you accept the covenant yes or no will make any difference ?