The legendary Celestina Warbeck is coming to Hogwarts in Hogwarts Mystery Celestina's New Groove Side Quest ! It's up to you to help her prepare a very special performance for the entire school ! Dumbledore needs you to escort a mysterious visitor back to Hogwarts ! Can you do so without drawing any extra attention ?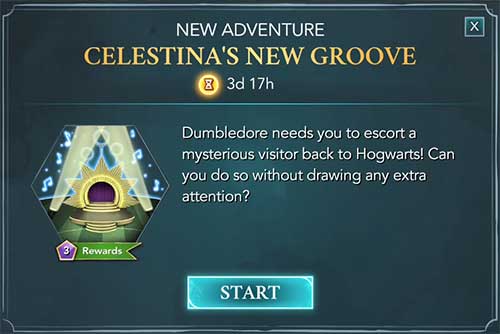 Harry Potter: Hogwarts Mystery by Jam City, Inc. on iOS and Android devices

The first requirements are for Year 5 to Year 6 Chapter 23. The second requirements are for Year 6 Chapter 24 to Year 7 Chapter 35. The third requirements are for Year 7 Chapter 36 onwards.
REQUIREMENTS – GATHERING INFO
Part 1
Task 1 of 4 – 1 Hour, 5 Stars, 37 Energy / 43 Energy / 50 Energy. Talbott level 4 friendship check.
Task 2 of 4 – 3 Hours, 5 Stars, 63 Energy / 71 Energy / 84 Energy
Task 3 of 4 – 3 Hours, 3 Stars, 38 Energy / 43 Energy / 51 Energy
Task 4 of 4 – 3 Hours, 5 Stars, 63 Energy / 71 Energy / 84 Energy. Barnaby level 6 friendship check.
Reward: 300 Coins
Part 2
With a soloist selected and the Frog Choir at the ready, Celestina's secret show is coming together magically. What could go wrong?
3h wait
Task 1 of 4 – 3 Hours, 3 Stars, 38 Energy / 43 Energy / 51 Energy
Task 2 of 4 – 3 Hours, 5 Stars, 63 Energy / 71 Energy / 84 Energy
Task 3 of 4 – 3 Hours, 5 Stars, 63 Energy / 71 Energy / 84 Energy
Task 4 of 4 – 8 Hours, 5 Stars, 106 Energy / 117 Energy / 138 Energy
Reward: 3 Gems, 1 Chocolate Frog
Part 3
With Rita Skeeter closing in, a hunt for Frog Spawn Soap takes an unusual turn.
5h wait
Task 1 of 4 – 3 Hours, 5 Stars, 63 Energy / 71 Energy / 84 Energy
Task 2 of 4 – 3 Hours, 5 Stars, 63 Energy / 71 Energy / 84 Energy
Task 3 of 4 – 3 Hours, 5 Stars, 63 Energy / 71 Energy / 84 Energy. Empathy check equal to MC's empathy level.
Task 4 of 4 – 8 Hours, 5 Stars, 106 Energy / 117 Energy / 138 Energy
Reward: 3 Gems
Part 4
Can you cure Celestina of the frog in her throat before the big show?
4h wait
Task 1 of 4 – 3 Hours, 5 Stars, 63 Energy / 71 Energy / 84 Energy
Task 2 of 4 – 3 Hours, 5 Stars, 63 Energy / 71 Energy / 84 Energy. Courage check one level below MC's courage level.
Task 3 of 4 – 8 Hours, 5 Stars, 106 Energy / 117 Energy / 138 Energy
Task 4 of 4 – 3 Hours, 5 Stars, 63 Energy / 71 Energy / 84 Energy
Reward: 4 Gems, 1000 Experience, 3 Chocolate Frogs, Poster tappie (1 E / 26h)