Friendship guide for Harry Potter Hogwarts Mystery Liz Tuttle Walkthrough – Liz 'Lizard' Tuttle is a Slytherin who's main ambition is to make sure all creatures are treated equally. If you're having trouble with an animal-oriented ingredient or have any creature questions, Liz has the answers.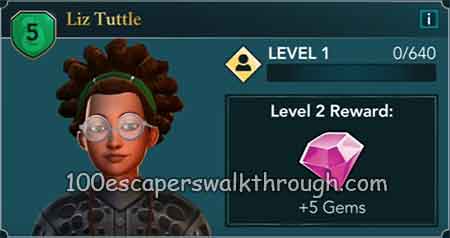 Harry Potter: Hogwarts Mystery by Jam City, Inc. on iOS and Android devices
when you reach level 10 of Liz Tuttle friendship, you will get Bottom outfit reward

Meal with a Friend – Prove how well you know Liz
What new friends did you make?
o Torvus
o Charlie Weasley
x Percy Weasley
What plants did you study?
o Wormwood
o Wiggentree
x Wizengamot
What guarded the Cursed Vault?
o An Acromantula
x A Centaur
x A Red Cap
What cool potions did you learn?
o Beautification Potion
x Wit-Sharpening Potion
x Shrinking Solution
Play Gobstones – Win at Gobstones by Distracting Liz
How do you like Gobstones?
o It's cooler than creatures
v It's cooler than Hagrid
x It requires my complete attention
Don't try to distract me…
o is that a unicorn?!
x is that a pony?!
x is that something i would do?
Let's join the Gobstones Club
o Let's protest creature cruelty
o Let's search for creatures
x Let's plan our next moves
I'd better concentrate
o But what about Hippogriffs?!
o But what about Animagi?!
x That's a good idea
Drink Butterbeer – Prove how well you know Liz !
Who's my Head of House?
o Professor Snape
x Professor Dumbledore
x Professor Sprout
What ingredients did i give you?
o Bicorn Horn
o Boomslang Skin
x Bulbadox Juice
Who first told you about me?
o Penny Haywood
x Barnaby Lee
x Rowan Khanna
What's my nickname?
o Lizard
x Lizzie
x Lionfish
Strengthen Friendships ! You can have special interactions with your companions, like Playing Gobstones in the Courtyard and Eating Meals in the Great Hall. Complete these interactions to raise your Friendship Level and unlock valuable rewards. You can even earn the chance to invite your companins on special adventures!