Guide for Adventures In Curse-Breaking Harry Potter Hogwarts Mystery Walkthrough – Bill has an exciting new Gringotts assignment. But can you convince him to accept your help?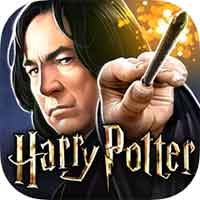 Harry Potter: Hogwarts Mystery by Jam City, Inc. on iOS and Android devices
Harry Potter Hogwarts Mystery Adventures In Curse-Breaking

There are 4 parts of The Dragon's Treasure Side Quest :
Task 1 of 4
Attend Bill's Lesson at Defense Against the Dark Arts Classroom (East Towers)
Bill will ask you :
Got any questions about being a professional curse-breaker?
– What do you like best about your job?
– What's it like working for Gringotts?
– Do you think i'd make a good curse-breaker?
Listen to Bill – 3 Hours, 1 Star, 13 Energy
Task 2 of 4
Meet with Charlie at Great Hall (Lower Floor – West)
Charlie will ask you :
Why won't he bring me with him to the Romanian Dragon Sanctuary ?
– He's trying to be professional
– He's just trying to protect you (Bill lvl 8 Friendship)
– He's just being pigheaded
Discuss Plan – 1 Hour, 5 Stars, 40 Energy
Task 3 of 4
Go to Gringotts (Diagon Alley)
Odbert will ask you :
Where are you two shifty characters going in such a hurry ?
– We're here to see Bill
– We're dragon experts
– We'd like to open an account
Listen to Griphook – 3 Hours, 5 Stars, 66 Energy
Task 4 of 4
Help Bill Study at Hog's head inn (Hogsmeade)
Bill will ask you :
I still can't take you with me. I kow it seems unfair, but that's just the way it is. Can't you see it my way ?
– Let's negotiate
– We understand
– Your way is wrong
Study Dragons – 3 Hours, 5 Stars, 66 Energy
Reward: 300 Coins
Part 2:
1h wait.
Task 1 of 4 – 1 Hour, 5 Stars, 40 Energy / Empathy check matching your character's level
Task 2 of 4 – 3 Hours, 5 Stars, 66 Energy
Task 3 of 4 – 3 Hours, 5 Stars, 66 Energy / Charlie lvl 5 Friendship Check
2h wait
Task 4 of 4 – 3 Hours, 5 Stars, 66 Energy
Reward: 2 Gems
Part 3:
Task 1 of 4 – 8 Hours, 5 Stars, 109 Energy / Courage check matching your character's level
3h wait
Task 2 of 4 – 8 Hours, 5 Stars, 109 Energy
Task 3 of 4 – 3 Hours, 5 Stars, 66 Energy / Barnaby lvl 7, Penny lvl 7 Friendship Check
3h wait
Task 4 of 4 – 3 Hours, 5 stars, 66 Energy
Reward: 3 Gems
Part 4:
Task 1 of 4 – 8 Hours, 5 Stars, 109 Energy
Task 2 of 4 – Win a duel (250 Coins) / 25 Courage, 25 Empathy, 25 Knowledge
Task 3 of 4 – 1 Hour, 5 Stars, 40 Energy
Task 4 of 4 – 3 Hours, 5 Stars, 66 Energy
Reward: 100 Courage, 1000 XP, 4 Gems, Dragon Gringotts Outfit