Play the first soccer game for mighty feathers in Angry Birds Goal Gameplay on iOS and Android device – Lead your team to victory ! Kick-off and win the match to get more contract offer, sign up for the team and learn from a soccer master ! Train to be the next super star ! Be the hero for your team, put it in the net ! refill your energy and win the game !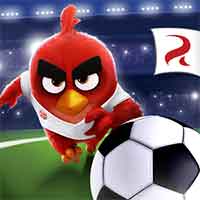 Angry Birds Goal! Game by Rovio Entertainment Ltd. Sports that you can play on android and ios devices iphone and ipad.
Angry Birds Goal Gameplay Walkthrough Video :

You can control your career, standings and league on carrer tab
there are some skills that can you train :
pace = dribble the ball faster
power = kick the ball harder
technique = control the ball better
defense = intercept more efficiently
Look at the relations points with others :
boss = get more free kicks
team = receive more passes
fans = demoralize your opponents
endorsers = get better store discounts
and on funfair there are 2 minigame that you can play :
slots : slot machine ! match two or three symbols to take home the jackpot
kart racing : check the form and choose who you think will cross the line first ! there are bigger jackpots when an underpowered kart wins
Join a Bird Island soccer team, and manage every aspect of your career to carry your team to the top!
You are the newest aquisition of soccer team, the Mighty Feathers. Managed by none other than Mighty Eagle, The Mighty Feathers have fallen in the league, and they're looking for fresh talent to reinvigorate their game. That's where you come in. Take control of every aspect of your career as the brightest upcoming soccer star on Bird Island, and lead your new team to victory!