Battlelands Royale Android / iOS Gameplay – fast paced multiplayer combat ! conquer the shrinking arena! race to supply drops and discover epic weapons ! level up to customize your character !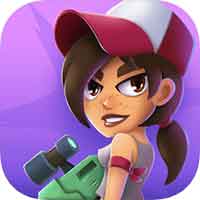 Battlelands Royale by Futureplay on iOS and Android devices
welcome to battlelands royale ! here's how to play the game :
land – select your landing spot and start exploring
loot – find weapons and ammo to fight against other battlers !
survive – be the last one alive and win the match !
left joystick – moves the character around
right joystick – aims and shoots, keep aiming to shoot automatically
win the battle – win a match and level up your character to unlock new outfits
rare drops – look out for rare drops with each level up! there's something cool waiting!
Battlelands Royale iOS / Android Gameplay Video :

Brand new and made for mobile, this is the most ridiculous battle royale! Loot, shoot and outlive 23 enemies to rule the shrinking arena!
A CRAZY FUN TWIST ON FAMILIAR BATTLE ROYALE ! Fight for survival in an epic last man standing multiplayer battle royale – but not as you know it!
Made for mobile, Battlelands Royale is a casual shooting game for everyone to enjoy. With 24 players and 3-5 minute battles it's pure non-stop carnage! No waiting in lobbies; no complicated menus to navigate. Just play, parachute, loot, shoot and survive!
Here are the game FEATURES :
— Real-time fast-paced 24-PERSON BATTLES against players from all over the world!
— HUGE game map to explore. Parachute into your area of choice!
— Tons of WEAPONS and ITEMS to loot!
— Race to SUPPLY DROPS to discover special rare weapons
— SHRINKING play area. Watch out for the storm!
— LEVEL UP your battler and unlock new outfits
More features are coming soon to Battlelands Royale :
— Loads more character customization and awesome new outfits
— Squads! Play with your friends
— Destructible environment! Blast your enemies' cover
— More weapons
…and much, much more!
Here are some tips and tricks how to win Battlelands Royale :
look for the supply drops and get the rare weapons
hide in bushes and prepare to shoot when the enemies come around
stay close for the health items, so when you got hit it will come handy
no need to rush for safe zone, just wait for the last moment of the warning so you can be prepared