Adventure Time Card Game : Card Wars Kingdom Gameplay on iOS and Android device – Card Wars Adventure Time is getting a sequel ! the next evolution of card wars, it's free for a limited time ! you can find pvp battles, daily dungeons , epic creature combat with more than 200 cards available to play with !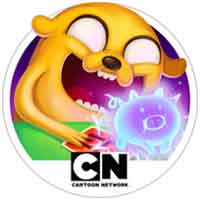 Card Wars Kingdom – Adventure Time Card Game by Cartoon Network on android and Turner Broadcasting System, Inc. on ios iphone
Card Wars Kingdom Gameplay Walkthrough Video :

King jake will teach you how to play the new card game :
it basically comes down to this : it's all about the creatures, build your team, send them to battle and claim the glory that is rightfully yours!
if you knock out all of your opponent's creatures on board, you win and become the cool guy !
You'll always draw a few random cards when you start the game. You can always find out about special moves and powers by tapping the cards.
There are many different creature elements in card wars :
blue plains
sandylands
useless swamp
nicelands
corn
Corn creatures have high attack points, and do a ton of damage with drag attacks. Every time you do a drag attack, you get a new card.
Cards allow you to cast spells, use abilities, and trigger larger attacks, way better than drag attacks alone.
Each creature has its own set of cards. When you attack with a creature, you'll draw one of its cards.
If you're out of energy, press the go button to end your turn then you will get energy. Each turn, your energy is refilled and grows by 1, up to a max of 10.
Collect hundreds of creatures, including Husker Knight, Cool Dog, and the Pig! Fuse creatures together to make them even more powerful.
Play as Finn, Jake, BMO, Princess Bubblegum, Marceline, LSP, and more! Test your skills in the Strike dungeons and face daily dungeon challenges.
Rule the kingdom! CARD WARS KINGDOM!