Disney Heroes Battle Mode Android / iOS Gameplay – Wreck-It Ralph 2 is coming, so we have a new game to play for Ralph Breaks the Internet ! Join ralph and other disney heroes for Battle to save the internet ! assemble your heroes to upgrade and activate skills! explore a corrupted world and team up for special missions !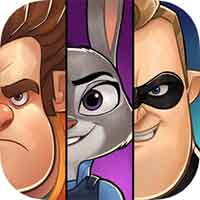 Disney Heroes: Battle Mode by PerBlue Entertainment, Inc on iOS and Android devices
Disney Heroes Battle Mode iOS / Android Gameplay Video :

Join the battle in this action-packed RPG starring Disney and Pixar heroes from The Incredibles, Wreck-It Ralph, and Zootopia!
here are the list of heroes character that you can unlock :
wreck it ralph characters :
Ralph
Vanellope
Felix
Calhoun
the incredibles characters :
Elastigirl
Frozone
Violet
Jack-Jack
Dash
Mr. Incredible
zootopia characters :
Yax
Chief Bogo
Finnick
Nick Wilde
Judy Hopps
Collect and equip badges for you heroes and when they have a full set of badges, you can promote them to make them even more powerful. Promotions give stat boosts and unlock even more powerful badges that you can equip.
Disney Heroes Battle Mod Android / iOS Gameplay Video :

Welcome to the digital City… and enjoy it while you can. A wicked virus is corrupting every pixel, turning even the heroes' own friends and family against them! Pull together the best teams for the job, equip powerful gear, and battle against incredible odds to save your fellow heroes.
Only YOU can win the day! No cape required.
• Collect & battle with 15 Disney & Pixar heroes, including the Incredibles, Frozone, Wreck-It Ralph, Vanellope, Judy Hopps, Nick Wilde & more
• Team up for missions and special campaigns
• Upgrade your characters with epic abilities & gear
• Explore a new digital world & save your fellow heroes!