Solution of Doors & Rooms 3 Chapter 2 Stage 3 Walkthrough – Find clues and solve puzzle on the theme park ! there's a secret item to be found on this level, so observe carefully.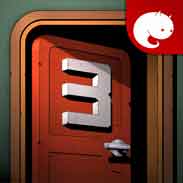 Doors&Rooms 3 by Gameday.Global on android and ios iphone / ipad
Tips to play running game on this stage you only need 1 button to win the game.. so place your device on table, just focus on 1 button and tap it fast !
doors and rooms 3 chapter 2 stage 3 video guide :

doors & rooms 3 chapter 2 stage 3 walkthrough
Collect missing letters to turn on the gate light.
The letter R button is hidden in the balloon. If you have a dart, use it to pop the balloon !
If you have all 3 letter buttons already, plug them into the power box now. Then push the buttons in the sequence that lights up on the display screen !
Play 2 games : running to get hammer and whack the mole with hammer to get the key to open haunted house
On haunted house if you want to get a golden ticket, you'd better have a mask, try covering it up with that.
Combine the ball and the chain. If you hang it around the vampire's head, you'll see an interesting scene when he wakes up !
Combine the lever you got from the vampire coffin and the lever you got from the cotton candy. If you use this lever combo on right panel in the haunted house, the skull at the entrance door will drop the knife
If the ghost is blocking your exit, use the knife to cut the rope that it's hanging from!
where to find secret item :
You see that clown statue in front of the haunted house ? Hand the item over the statue that knocked out the vampire (ball + chain) and you'll get the secret item to unlock level 8 in level 4