Solution of Doors & Rooms 3 Chapter 2 Stage 4 Walkthrough – Find clues and solve puzzle on the egyptian museum ! there's a secret door to be found on this level, so unlock level 8 using secret item from level 3.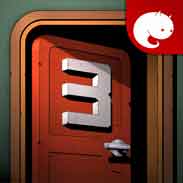 Doors&Rooms 3 by Gameday.Global on android and ios iphone / ipad
To solve the animal symbol on this level, you need to order the animal using the line position from each animal pillars. Order it from bottom to top.
doors and rooms 3 chapter 2 stage 4 video guide :

doors & rooms 3 chapter 2 stage 4 walkthrough
The hammer is the perfect thing for breaking that glass on middle.
Dig in the sand where the dinosaur skeleton is and you'll get a key.
Spray the chemical reagent you got from the bag, and then watch the hidden image appear on the parchment ! go to the next room
Use a fire extinguisher to put out the fire on left.
Take the hammer apart to get a lever that can be used on the switch.
From the first room, enter the numbers in the right places on the parchment pictures and then pull the lever next to the door. After that, you can remove the laser !
The stone statue in the second room is shielded by tempered glass.
Break it with a diamond to crack it, and then smash it with the hammer.
If you already received the three slabs, use them on the hieroglyphics panel in the third room and then push the slabs in order. The sequence for pressing them is hung on the wall.
Use the two of the pillars on the slab. After that, the hieroglyphics panel on the pyramid will open up.
You can find the password for the panel by looking carefully at the position of the lines on the pillars.
The first room is locked, so find a sandbag from 3rd room and open the coffin to get the sand then combine bot item. Place the sandbag on the 2nd room glass stone statue.