Walkthrough Farming Simulator 18 Gameplay is available on iOS and Android device – Become a modern farmer in Farming Simulator 18! Immerse yourself in a huge open world and harvest many types of crops, take care of your livestock – cows, sheep, and pigs – take part in forestry, and sell your products on a dynamic market to expand your farm!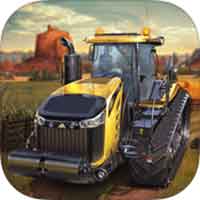 Farming Simulator 18 by GIANTS Software GmbH on android and ios iphone
Farming Simulator 18 Controls :
– Drag the speed slider to accelerate, brake and drive backwards
– Steer the vehicle by tilting your device to the left or right
– Rotate the camera by dragging your finger on the screen to the left or right
– Drag your finger on the screen up or down to zoom in or out
Farming Simulator 18 Gameplay Walkthrough Video :

Farming Simulator 18 Working on the fields :
To process field crops, there are 3 mandatory steps :
– cultivating
– sowing
– harvesting
You start out with a meadow and two fields which have been prepared at different levels. One is ready to be cultivated and sown, the other is ready for harvest. You can find the necessary tools at your farm.
Farming Simulator 18 Creating Hay Bales :
In order to feed your cows and sheep you need to cut the grass on the meadow and create hay. Mow the grass with a mower then turn it over with a tedder so it can dry to hay. Pick it up with a baler to create hay bales or use the loading wagon to collect it. Using a windrower before allows you to put the grass into neat rows that are easier to pick up.
Farming Simulator 18 Cows & Sheep
Drop the hay bales off at the cow or sheep shed. As long as your animals are fed, you receive milk from cows or wool from sheep which you can transport with the milk tank or wool transporter that are already near the sheds.
Manure is produced by cows as long as they are provided with straw.
Farming Simulator 18 Pigs
Pigs need a mixture of canola and corn as well as straw for their bedding. When you fulfill all their needs they will reproduce and you can sell your bred pigs to the animal shop using the animal trailer.
As long as you provide your pigs with straw they will also produce manure.
Farming Simulator 18 Attaching Tools
If you want to attach a tool to your tractor, you need to put the tractor in reverse and back towards it. As soon as you are close enough, the tool will be attached to your tractor automatically. You can detach it again by tapping the icon. Make sure you approach the tool from the correct side, otherwise it won't attach.
Farming Simulator 18 Activating Tools
Simply tap the action icon to lower / activate or raise / deactivate your tool.
Farming Simulator 18 Grain types
You can freely choose which one of the 5 regular fruit types you want to sow : wheat, corn, canola, sugar beet, sunflower.
Potatoes can only be sown with the special Grimme GL 860 sowing machine.
Only sow as much as you can reap, as ripe grain starts to rot if it is not harvested in time.
Be aware that sugar beet and potatoes require special macinery to harvest.
Farming Simulator 18 Field Work Assistants
Drive the appropriate vehicle and tool to the field that needs to be worked on. Tap the assistant icon to hire a worker. The assistant will take over the vehicle controls and start working straight away. All assistants accumulate wages based on their working hours. If their fuel or seed tanks are empty, they will stop work and drive to refill the tank and then continue working on the field.
Farming Simulator 18 Delivery Assistants
Assistants are also available for delivering crops to selling points. Attach a tractor to a filled trailer, tap the assistant icon, and choose the destination. The assistant will deliver your goods, sell them and return afterwards.
You can also hire an assistant to drive a specific place. Open the overview map and tap the assistant button, then tap the desired destination on the map. You can even request an assistant to pickup your grain while threshing. Simply place a tractor with a trailer near the field and honk once your harvester filled up.
Farming Simulator 18 Missions
At regular intervals, you get the chance to carry out specific missions in a set time.
If you accept the mission, an indicator starts to blink on the map, showing you where you have to go. There is also a countdown telling you how much time you have left to complete the task.
You earn money for each mission you successfully complete.
You have access to a huge selection of over 50 farming vehicles and machines, faithfully recreated from over 30 of the biggest names in the industry, including AGCO's most respected brands: Challenger, Fendt, Massey Ferguson and Valtra. Drive and use brand new equipment and harvest sugar beet, potatoes, wheat, canola, corn, and for the first time sunflowers.
With a deep and powerful simulation experience, a vast open world and a wide fleet of vehicles including brand new machines, Farming Simulator 18 invites you aboard the most complete handheld farming simulation ever created!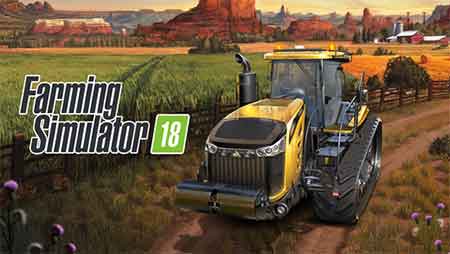 Features of Farming Simulator 18 include:
• Use realistic tractors and trucks from some of the biggest agriculture machine makers
• Plant and harvest six different crops: Wheat, canola, corn, sugar beet, potatoes and sunflower
• Breed pigs and sell them for profit
• Feed your cows and sheep to produce and sell milk and wool
• New front loader attachments expand your options when transporting bales or wood
• Manage AI helpers for better results or let them drive your vehicles to a destination of your choice
• New 3D graphics show even more detail on your machinery and the southern US environment
• Harvest wood with dedicated machinery and sell the timber
• Play with friends in local multiplayer mode via WiFi