Coffee Stain Studios AB Goat Simulator PAYDAY Gameplay is available on iOS and Android device – Goat Simulator: Payday is the most criminally realistic goat simulation yet! Starring 4 new main thugs – valentino salami a flying flamingo, dolph spaghetti a wheelchairing dolphin, humphrey ciabatta a spitting camel and don pastrami a goat that's just really handsome.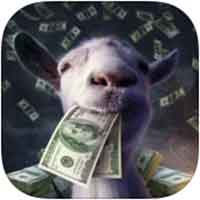 Goat Simulator PAYDAY by Coffee Stain Studios AB on android and ios iphone
Use the crew button to switch crew member
Press the mask button to equip / unequip masks
Lick to grow up a hump on your back and [pow] to spit it out through your mouth in the form of water
Goat Simulator PAYDAY Gameplay Walkthrough Video :

Use PRANKNET to find your new crew some smash & grab heists, then blast away your stolen cash on different things. Mostly masks. Okay only masks.
Dodge the police by stealing and driving other people's cars, because it's too expensive to buy your own.
– FOUR AWESOME NEW MAIN GOATS, seriously these guys are like they're from an Al Pancake movie.
– One can fly and control people's brains, another can climb any surface with a wheelchair and a third can spit water that it stores in it's back. Disgusting.
– PRANKNET – a database filled with stupid "jobs" for your crew to do. But who cares. They pay well.
– Buy masks to disguise your identity so that the police won't catch you. Or just to look cool.
– There are like 14 new mutators to unlock. I'm not even kidding. So many.
– Did I say that you can steal and drive cars?
Find BAAA machine to view the pranks you can do in the city :
chocolate factory – set a chocolate bag on fire and put it on the doorstep
drill for cheese
mess with the police
cops and robbers
flippin burgs
make pigs fly
catastrophe
exploding cake
drive in saturday
buried games
prison break the dev
the godmother
characters and how to unlock them :
balloon goat – (goatwood) when all you have is pie in the sky, try instead to make pigs fly
babushka goat – (goatwood) is still a crime if you rob a bank that is already being robbed by someone else?
catified goat – (goatwood) fill the kitty land love center with kittens, otherwise it would be a pretty crappy kitty land
drillicopter goat – (goatwood) the drillshop is working on some interesting protoypes, check their trash out back for exciting stuff
dynamite goat – (goatwood) blow up the birthday party with your glowing presence, or dynamite
greasy goat – (goatwood) gain weight at cowie's, follow the pipe to lose it
helicopterkin – (goatwood) collect 20 trophies
hogtie goat – (goatwood) collect 10 trophies
limb ragdoller goat – (goatwood) bring your own test subject to the ragdoll test facility
rocket goat – (goatwood) robbing super secure bank vaults never pays off, unless you get away with it
sugar cloud goat – (goatwood) visit the casino and pay your respects to the godmother