Walkthrough for Homescapes Story Gameplay is available on iOS and Android device – Design unique interiors and beat levels to unlock rooms ! follow the exiting storyline and blow up colorful power-ups in homescapes ! Beat colorful match-3 levels to renovate and decorate rooms in the mansion, unlocking ever more chapters in the exciting family story along the way! You have to be connected to the Internet to save the game progress !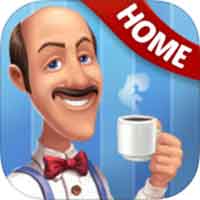 Homescapes By Playrix Games on android and ios iphone
Welcome to Homescapes! Help Austin the butler bring warmth and comfort back to his wonderful family's mansion. Come on in—adventures await you from the moment you walk in the door! What are you waiting for? Make yourself at home!
The game features:
* Unique gameplay : help Austin renovate the house by swapping and matching pieces!
* Interior design : you decide what the house will look like.
* Exciting match-3 levels : tons of fun, featuring unique boosters and explosive combinations!
* A huge, beautiful mansion : discover all the secrets it holds!
* Fantastic characters : watch them live their lives and interact with each other in the in-game social network.
* A cute pet : meet а naughty and fluffy cat.
* Invite your Facebook friends to help you create your own cozy atmosphere in the house!
Homescapes is free to play, though some in-game items can also be purchased for real money. If you don't want to use this option, simply turn it off in your device's Restrictions menu.
Homescapes Day 2 Story Walkthrough Video :

Homescapes Day 3 Story Walkthrough Video :

Homescapes Day 4 Story Walkthrough Video :

Homescapes Day 5 Story Walkthrough Video :

Homescapes Kitchen Story :
Homescapes Kitchen Day 1 Story Walkthrough
Homescapes Kitchen Day 2 Story Walkthrough
Homescapes Kitchen Day 3 Story Walkthrough
Homescapes Kitchen Day 4 Story Walkthrough
Homescapes Kitchen Day 5 Story Walkthrough