Pele Soccer Legend Gameplay on iOS and Android device – Touch the ball & swipe towards the goal post, you can swipe in a curve to bend your shot. There are some requirements to finish each level, where you have score goal, points or hit target boards with some kicks to complete the level. When you're finish with some kicks remaining, there's a bonus time ! your score points would be multiplied by combos.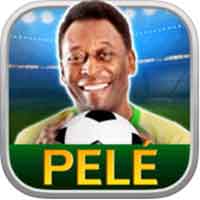 Pelé: Soccer Legend game by Cosi Productions LLC that you can play on android and ios devices iphone and ipad.
True flick soccer : aim, swipe and goal ! A career mode that let you journey through exciting locations and 1 vs 1 multilayer to challenge online players. You can customize yourself with 200+ unique gars & kits ! Play with amazing boosters to enhance gameplay.
Pele Soccer Legend Gameplay Walkthrough Video :

The official soccer game on greatest footballer PELÉ! Pelé: Soccer Legend is a new soccer experience with streamlined gesture controls, featuring the legend himself! Follow in Pelé's footsteps in career mode and work your way from the backstreets of Brazil all the way up to become world champion
Key Features :
– Free to Play!
– 150 challenging levels with 5 amazing locations
– Online Multiplayer game mode. Compete against other players around the world
– Over 2000 goals formats and challenges to complete from the backstreets to the big leagues
– Customize your player with unique uniforms, hats, hair styles, and more!
– Use special power-ups to defy physics and take down any opponent in your path
– Exclusive free kicks win in game prizes
– Exchange free gifts with your friends