PRO EVOLUTION SOCCER 2018 Android / iOS Gameplay PES 2018 Legends vol. 1 BECKHAM – The England "legend" D. Beckham makes his first appearance via the "LEGENDS vol. 1 BECKHAM" Special Agents! D. BECKHAM and currently active players with skills such as "Pinpoint crossing" or "Heading" will be available. Get a legendary player and strengthen your squad!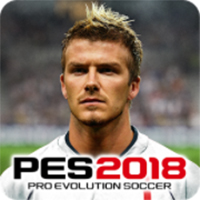 Mobile PES 2018 PRO EVOLUTION SOCCER by KONAMI on iOS and Android devices – Play against your friends in the brand new season of PES!
Special Agent
If a disconnection occurs while the player acquisition sequence is playing, you will still correctly obtain the player according the pre-set odds and he will be added to your list. You can view the players you obtained by going to :
CLUB HOUSE > MY TEAM > PLAYERS
The pre-set odds are the same for all players for each ball color.
As the percentages are displayed to one decimal place, the total of all the pre-set odds may not always add up to exactly 100%.
You may obtain duplicate players from this Agent. You may also obtain players identical to those you already own or have owned.
PES 2018 – PRO EVOLUTION SOCCER BECKHAM Challenge iOS / Android Gameplay

The special Agent "Legends vol. 1 Beckham Silver+" (x1) can be obtained as reward from the challenge event that are scheduled to be held 11/10 05:00 to 11/13 04:59 (UTC)
The special Agent "Legends vol. 1 Beckham Silver+" (x1) and "Legends vol. 1 Beckham Gold+" can be obtained as reward from the challenge and VS user challenge events that are scheduled to be held 11/17 05:00 to 11/20 04:59 (UTC)
You can check the list of targets by tapping the magnifying glass icon to the bottom-left of each agent.
The event schedule and details are subject to change without prior notice.
PRO EVOLUTION SOCCER 2018 Android / iOS Gameplay

NEW FEATURES TO MAKE MATCHES MORE EXCITING
The authentic soccer action of "PES" has been upgraded with data to match the start of the 2017-2018 season!
With the new "Friend" feature, you can enjoy online matches in realtime against your friends whenever and wherever you want.
If you want to play casually against nearby friends, now you can with "Local Matches" and "Local Leagues", where you create an original tournament. Enjoy heated matches against your friends and clinch the top spot!
Starting with D. BECKHAM and with more legendary fan-favorites yet to come, there's never been a better opportunity to create your ultimate dream!
Matches have been improved with the addition of new gameplay features, such as the Chip Shot and Controlled Shot.
There's also been a big overhaul to the game's sound and visuals.
THE PES 2018 MOBILE EXPERIENCE
Take total control of every action on the field in a way that only the PRO EVOLUTION SOCCER franchise can deliver!
Natural player movements, precision passing, and in-depth tactics bring the true experience of the beautiful game to your mobile device!
SWIPE TO PASS! TAP TO SHOOT!
Controller actions have been optimized to make playing on your mobile device feel as smooth and exciting as a PES action game should! Utilize PES "Advanced" controls for precise passing and controlled shooting. "Classic" virtual pad controls are also available.
Master your technique and feel the excitement of scoring the winning goal in the ultimate action soccer game!
PES 2018 (PRO EVOLUTION SOCCER) Classic Button Control Gameplay

BUILD YOUR WINNING ELEVEN TEAM
Acquire players through Scouts, Agents, or the Scout Auction.
Choose the best players to fit your unique tactics.
Every player is unique and every match is a new experience!Create your very own team and play right away!
OFFICIAL CLUB PARTNERSHIPS
Scout and recruit thousands of soccer stars from the best teams in Europe, South America, and Asia.
Prepare to feel what it takes to play with or against stars like L.MESSI, L.SUÁREZ, INIESTA, PIQUÉ and O. DEMBÉLÉ.
THE OFFICIAL "UEFA CHAMPIONS LEAGUE"!
Experience official visuals from the "UEFA Champions League" as you compete against the top teams in Europe.
PRO EVOLUTION SOCCER 2018 Campaign Gameplay

[System Requirements]
This app is an online game. Please enjoy the game with stable internet connection.
[Title Display]
If you select Japanese in the language settings of the game application, "Winning Eleven 2018" will be displayed. If you select a language other than Japanese, "PES2018 PRO EVOLUTION SOCCER" will be displayed.