Walkthrough for Star Wars Rivals Gameplay is available on iOS and Android device – compete in real time pvp, dominate with special skills, engange in epic combat and battle across the galaxy !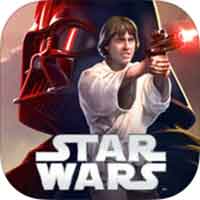 Star Wars: Rivals By Disney on android and ios iphone
Star Wars: Rivals Gameplay Walkthrough Video :

Confront your rivals in the first real-time Star Wars competitive action shooter designed specifically for your mobile device. Choose from a cast of iconic characters that span all eras of the Star Wars universe while mastering your skills in cover-based PvP skirmishes. Build the ultimate combat team, anticipate your opponent's strategy, and leverage your surroundings to gain the upper hand. Battles are fought both in single-player campaign scenarios and real-time PVP battles. Take aim, fire, and obliterate the competition.
ACTION PACKED SHOOTER
• Engage in fast-paced shooter gameplay with mobile-optimized controls. Outwit your opponents by strategically utilizing a destructible cover system
• Wield iconic weapons like Chewbacca's bowcaster, Han Solo's DL-44 pistol, and Boba Fett's EE-3 carbine rifle in combat to take down your enemies! Discover unique character abilities to help dominate your opponents in the field
FIGHT IN REAL-TIME PVP SKIRMISHES
• Battle other players cross-platform in the real-time PvP Arena. Build the ultimate roster of three unique characters and swap them in-and-out the heat of battle. Collect and deploy AI troops like Stormtroopers, Rebel Troopers, and more to help you achieve victory
• Defeat your opponents to collect points, climb the leaderboards, and win rewards to upgrade and unlock characters
Star Wars Rivals Arena Multiplayer Gameplay Walkthrough Video :

PROGRESS IN ADVENTURE MODE
• Enter the heat of combat with mission-based scenarios in Adventure Mode. Dominate enemies and take down rivals in epic boss fights across familiar environments like Takodana, Jakku, and Bespin
• Face off with iconic rivalries like Luke Skywalker and Darth Vader, Han Solo and Boba Fett, Finn and Captain Phasma, and more
COLLECT & UPGRADE LEGENDARY CHARACTERS
• Team up with characters from different eras of the Star Wars universe and films like Empire Strikes Back and the Force Awakens
• Battle as a Jedi, a scoundrel, a Wookiee, Sith, and more! Discover each character's unique abilities and upgrade them to fit your unique play style
COMPETE AGAINST RIVALS
• Reign victorious against your Daily Rival – collect the most Arena wins to win valuable prizes
• Climb weekly Leaderboards to collect rewards to unlock rare characters and loot crates