A new stickman sport : Stickman Soccer 2016 Gameplay on iOS and Android device – Pure soccer fun ! the most anticipated soccer game ever. Be the champion of cups, seasons, leagues, women with outstanding gameplay, fast paced realistic arcade soccer and party mode to challenge your friends.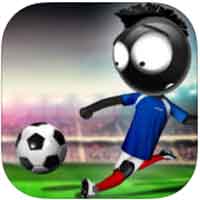 StickmanSoccer16 game by Djinnworks GmbH that you can play on android and ios devices iphone and ipad.
These are some menu that you can choose :
France 2016, seasons, leagues, quick game, training, shootout, party mode.
Stickman Soccer 2016 Gameplay Walkthrough Video :

In Training option the trainer that will teach you the gameplay basics :
Use left stick to define the run and shot direction. If you are use automatic running, then simply touch the player you want to pass to.
Use PASS button to pass to your focused teammate. The SHOOT button will shoot on the goal.
The longer you press a button, the harder the shot will be.
Use the SWITCH button to change your controlled player. The SLIDE button will perform a hard atack to stop the opponent.
In party mode you can compete in a quick game with up to 4 local players. Play alternating the same quick game to find out who really is the Stickman Soccer 2016 Champion !
EXPERIENCE PURE ARCADE SOCCER, not just another simulation! PLAY with your friends locally in the brand new and UNIQUE PARTY MODE!
From the makers of various top hits like Stickman Basketball, Stickman Ice Hockey, Stickman Football, Stickman Tennis, Stickman Battlefields, Stickman Cliff Diving, Stickman Base Jumper, Rope'n'Fly and more…

StickmanSoccer16 FEATURES :
• Seasons, National Leagues and Cups
• European Cup 2016 in France
• Short and Long Seasons
• Woman league and teams
• Brand new and unique Party Mode. Play with up to 4 players on your device
• Quick Game and Shootout modes
• New game mechanics including Fouls, Penalty Kick, Long Pass, Header, Corner, etc..
• New movements and tactics
• New 3D fluid animations
• Various difficulty modes
• Full controller and gamepad support
• Simple yet powerful touch controls with timing control

• Automatic or Manual Running
• 100 different soccer teams to choose from
• Match statistics
• Compete with your friends with the integrated world ranking leaderboard

• Smooth animations with 60 frames per second