Guide for Tap Titans 2 Manni Mana Walkthrough – There's an achievements in tap titans 2 to kill manni mana 10 times, so where to find manni mana in tap titans 2 ? when i look at the game files, the mana monster chance appears after you unlock the skill "Manni Mana"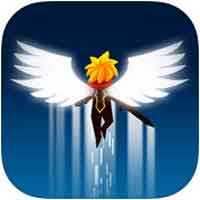 Tap Titans 2 By Game Hive Corp. on android and ios iphone
Achievements : Kill Manni Mana 10 Times with 5 diamonds reward



Come here to view your achievement progress and collect diamonds for completed tiers. Continue to increase your strength and defeat titans to earn more!
You can find manni mana on the skill tree at the bottom right one :
Manni Mana skill = 20 mana replesnished by Manni Mana – Available at stage 2000.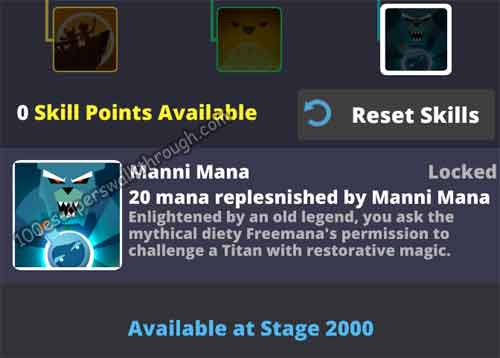 Enlightened by an old legend, you ask the mythical diety freemana's permission to challenge a Titan with restorative magic.
so this is a mana monster that unlocks at stage 2000 when you unlock the skill
And there's an interesting fact on ios device, when you look at the version 1.1.0 update there's a list where "manni mana monster exploit fixed"
does anyone know what exploit was they fixed in this update ? because for tap titans 1 you can trigger Chesterton when fighting the boss, leave the boss then fight the boss again until you encounter with chesterton 😛
here are the manni mana skill level – skill cost and skill bonus list :
level 1 : cost 1 – 20 mana replenished by manni mana
level 2 : cost 2 – 30 mana replenished by manni mana
level 3 : cost 3 – 40 mana replenished by manni mana
level 4 : cost 3 – 50 mana replenished by manni mana
level 5 : cost 4 – 60 mana replenished by manni mana
level 6 : cost 4 – 70 mana replenished by manni mana
level 7 : cost 4 – 80 mana replenished by manni mana
level 8 : cost 5 – 90 mana replenished by manni mana
level 9 : cost 6 – 100 mana replenished by manni mana
level 10 : cost 7 – 110 mana replenished by manni mana
level 11 : cost 8 – 120 mana replenished by manni mana
level 12 : cost 8 – 130 mana replenished by manni mana
level 13 : cost 10 – 140 mana replenished by manni mana
level 14 : cost 12 – 150 mana replenished by manni mana
level 15 : cost 14 – 160 mana replenished by manni mana
level 16 : cost 16 – 170 mana replenished by manni mana
level 17 : cost 18 – 180 mana replenished by manni mana
level 18 : cost 20 – 190 mana replenished by manni mana
level 19 : cost 25 – 200 mana replenished by manni mana
level 20 : cost 30 – 210 mana replenished by manni mana
Tap Titans 2 Prestige + Relics + Artifacts iOS / Android Gameplay Walkthrough