Download the app, register bethesda account and you can play The Elder Scrolls Blades Early Access or getting Limiting Access when enter the mobile game 🙁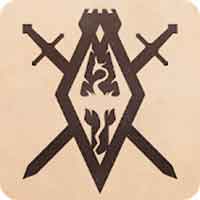 The Elder Scrolls: Blades is a classic dungeon crawler reimagined. Create and customize your character, accept quests from your townspeople, rebuild your city, and unravel clues to an ancient mystery. Or venture into the Abyss to see how far you can go in an endless dungeon. The story of The Elder Scrolls: Blades is about The Blades, the Empire's top agents, are forced into exile. On the run, you return to your hometown to find it destroyed.

The Elder Scrolls: Blades languages will available in English, French, Italian, German, Spanish, and Russian.
Early Access is available on both iOS and Android, you can download it via :
android apk : https://play.google.com/store/apps/details?id=com.bethsoft.blade&hl=en
iphone ipa : https://itunes.apple.com/us/app/the-elder-scrolls-blades/id1358476597?mt=8
but if you already register and get this pop up :
Thank you for Downloading Blades!
To ensure smooth experience for everyone, we are limiting access during the launch period.
Make sure Notifications are turned on, so we can let you know when you can play Blades!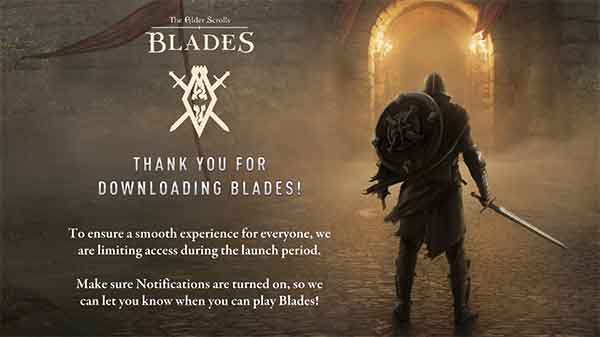 that means you need to wait until it rolled out for you,
here's the official statement :
When will I get into Early Access?
We're inviting players into Early Access on a rolling basis. Keep an eye on your email for the invite—and update your email preferences to make sure that we can reach you! We are doing our best to get everyone who signed up for Early Access into the game as quickly as possible!
What devices will Early Access support for The Elder Scrolls: Blades
here are the list of Android and iOS supported devices :
• iPhone 6s and newer
• iPhone SE
• iPad Pro
• iPad Mini 4 and 5
• iPad Air 2 and 3
• Samsung Galaxy S8/S8+
• Samsung Galaxy S9/S9+
• Samsung Galaxy S10/S10+
• Samsung Galaxy Note 8
• Samsung Galaxy Note 9
• Google Pixel 2/2XL
• Google Pixel 3/3XL
• OnePlus 5 and newer
• Moto Z2 and newer
• Essential Phone
• HTC U11/U11+
• HTC U12+
• LG V30
• LG G7 One
• Xiaomi Mi 6
• Xiaomi Mi Mix 2
• Xperia XZ Premium
• Xperia XZ1
• Razer Phone
• ZTE Nubia Z17
• Nokia 8
• Sharp Aquos R
• Asus ZenFone 4 Pro
• Huawei P20/P20 Pro
• Huawei Mate 20 Pro
• OnePlus 6T