The Fear 2 Creepy Scream House Walkthrough Gameplay – Everything ends at the beginning, what will be your end ? play the fear 2 horror game with high quality graphics, detailed levels, fascinating and thrilling story ! are you brave enough to save your family ? this game have 3 action-packed missions with terrifying sounds, smooth controls, impressive gameplay and more. If you need help to locate and find the position of the book, key or notes then check out the walkthrough below !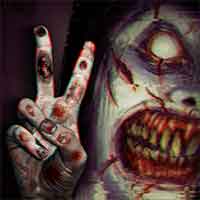 The Fear 2 : Creepy Scream House by Boomerang Games on iOS and Android devices
The Fear 2 Creepy Scream House Android Gameplay Video :

Here are The Fear 2 Creepy Scream House Story Levels Walkthrough :
1. Return to Life
What if everything was a nightmare ? i have to make sure that my daughter is safe. I need to find her room key, and enter to her room. Hint : yellow bright objects will be your missions.
2. Mystery House
What is happening, this is not my home. Where is my wife and daughter? i need to find the key to leave the house.
3. Strange Notes
My wife left me 4 notes. I need to find them and figure out what she is trying to tell me.
4. Evil Ambush
Strange things are happening. I need to get a knife for protection and i should get keys to leave the house.
5. Endless Search
Oh no, she got my daughter! Where did they go? I need to check all the rooms to find her.
6. The Chase
I can't outrun this demon. I need to follow her to basement and face with her.
7. Face Off
This is my daughter's voice… She is in danger!! I need to save her, then we must get out of this house.
8. Upper Floors
I need to end this nonsense. I should gather some information from the books to learn how to kill this demon.
9. Creepy Halls
I saved my daughter, but she still has my wife. I also need to save her. I should find a hint from the notes in the house.
10. Last Hope
It is time to get rid of this demon. After saving my wife, I will end this.
Everything until now was a nightmare. It is all starting now. It is time to face your fears. This demon still has your family. Can you save them? Be aware, it will not be easy, you have to face the most cruel demon ever. Are you ready for this scary adventure? Scaring 5 million people to the bone, the second game of the series is here and it is even more terrifying! Are you brave enough to outrun and defeat this demon?
– Fearful , psychopath the babadook haunts terror in haunted house.
– Abhorrance and angst creating catastrophical atmosphere with blood-curdling satan and boogeyman !
– Do you like horror , horror game , horror games , haunting and surviving game ?
– Run through the gloomy corridor , from the horrible and sinister evil!
– In this scary game , you will live gehenna with freaky and ominous daemon.
– Forsaken possession and desolate house will be simulacrum of life.
– Save your kidnapped family from lunacy , insanity and derelict babadook.
– Weeping girl , evil devil , scary games , astounding and haunted house.. Are you interested with this ?
– Are you ready for fight with lurch and loathing monster ?
– Staggering and ineluctable end…