Unknown Survivor Battlegrounds Android / iOS Gameplay – Survive in battle royale game mode ! be stealthy, find ammunition and earn ranks ! raise your rank and get new weapons, new maps, cooperative play !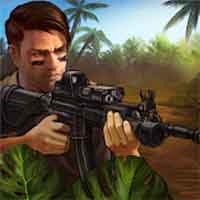 Unknown Survivor – Battlegrounds by K-MOBILE on iOS and Android devices
here are some tips and tricks how to win the Unknown Survivor Battlegrounds game :
stealth – bushes are the perfect place to set an ambush
strength – watch your weapon so that it doesn't let you down at the crucial moment
close-in fighting weapons – deadly close-in fighting weapon, the most important thing is to sneak up invisibly
guns – basic weapon designed for fights at short and medium ranges
reload – don't forget to reload in time so that your enemies can't catch you off guard
submachine guns – high rate of fire but big spread, perfect for close-in fighting
shotguns – have incredible kill power at short ranges
assault rifles – universal weapon for any distance
Unknown Survivor Battlegrounds Android / iOS Gameplay Video :

What is Unknown Survivor – Battlegrounds?
You find yourself on the battleground… Unknown survivors scattered throughout the territory.
At the beginning of the game, the player does not have weapons and armor. The weapons are in the houses on the map at random, and it still remains to be found. Within some minutes, the battleground is getting smaller and smaller, forcing survivors to desperately fight for survival – after all, only one should remain.
Survival Battle Royal game ! Only one survivor will survive
One battleground – survive the most cunning, fast and resourceful. Some minutes battle will determine everything.
Deathmatch on a decreasing battlefield. Last Man Standing! You will not be able to survive, hiding in cover. Move to the center of the map or die.
A variety of weapons to survive ! Search for weapons, stay in the play zone, loot your enemies. Use everything that will help you survive on the battlegrounds – from the ax to the machine gun.
Unknown Survivor Battlegrounds iOS / Android Gameplay Video :

Remember these rules of survival – no rules!
Did you search survival games? "Unknown Survivor – Battlegrounds" is a Battle Royale survival game, which will appeal to you. Join now!