New Puzzle Solving Event : Harry Potter Magic Awakened A Slice of Home Location answers ! this mystifying event starts at 11/21/2023 and will last until 12/05/2023. Follow the hints to various locations or residents of the wizarding world for puzzle pieces, which, when pieced together, will solve a Hogwarts Mystery.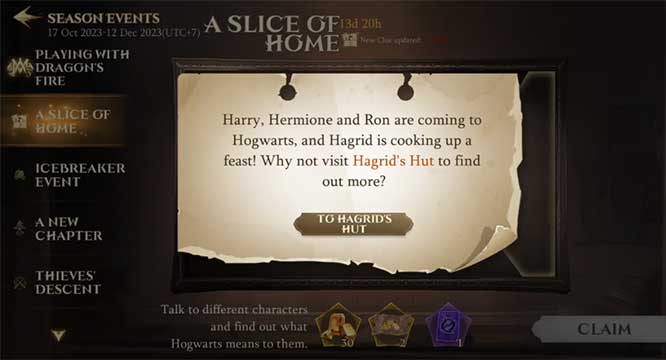 One hint will be unlocked daily until all 6 hints are present ! Talk to different characters and find out what Hogwarts means to them.
you will find Hagrid's Note to start this event :
Dear player, Need your help deciding what to make for a wee get together. Cant' be rock cakes – Harry's invited and he does NOT like them. He only pretends to because he's too nice to say otherwise. Ron and Hermione will be there, too. And you're invited, of course.
Could you maybe come by tonight for a chat ?
A Slice of Home Clue 1
Harry, Hermione and Ron are coming to Hogwarts, and Hagrid is cooking up a feast ! Why not visit Hagrid's Hut to find out more ?

Click Interact on Hagrid to complete the first puzzle
A Slice of Home Clue 2
It's a beautiful day to explore the grounds. Why not wander your Hogwarts home and get a breath of fresh air ? The end of the covered bridge outside the Great Hall seems like a good spot

Click Interact on Lottie to complete the second puzzle
A Slice of Home Clue 3
Studying near the holidays is no fun. Why not head to the Potions Classroom and see what Daniel is up to ?

Click Interact on Daniel to complete the third puzzle
coming soon for the answers for A Slice of Home location for each day !